The Auckland Santa Parade is an iconic event that has been taking place every year for over 80 years to the delight of thousands of Aucklanders of all ages and backgrounds. If you happen to be visiting the city towards the end of the year, it's a great event to experience and will certainly give you a taste of the Kiwi way of celebrating Christmas.
Whilst it's a fantastic event to attend there are a few useful tips and bits of advice to take on board in order to get the most out of the day.
We've put together this guide to do exactly that as well as give you a bit additional background about the history of the event and what to expect.
The history of the Santa Parade
The Santa Parade had humble beginnings in the early 1900s when the large department stores offered a visit from Santa to entice the younger consumers (along with their parents) into their stores.
The popularity of this eventually led to the first ever Santa Parade, sponsored by the store 'Farmers' in 1934 which still supports the event today. Whilst that event had a few decorated carts pulled by horses, Santa Parades in modern times involve thousands of contributors for dozens of floats and over 100,000 spectators annually.
What to expect at the Santa Parade
The Santa Parade is a spectacle designed for the kids, first and foremost, which is the way it should be. On the day you can expect to see some of their favourite characters (like Peppa Pig, Thomas the Tank Engine, My Little Pony to name a few), individual entertainers and acrobats, musicians and marching bands and more!
This is all before the main attraction which is, of course, Santa himself, often in his own sleigh, tossing handfuls of sweets out to his devoted fans that have lined the streets. This usually sends the younger members of the crowd into a bit of a frenzy but its good-natured stuff and makes for an entertaining watch.
A few tips for the day!
Know the route! – It typically starts from Mayoral Drive onto Queen Street before finishing on Customs Street East
Arrive early – There will be crowds and the best spots will get taken quickly
Park wisely – Spaces will be at a premium which goes without saying but you'll also want to get away without being caught in the worst of the traffic jams
Manage expectations – It will be very busy and slow moving through crowds so no good will come of getting stressed by it
Don't forget a hat and sunblock – NZ's sun is particularly harsh in summer so it's really important to cover up when out and about
Take plenty of water and snacks – Hydration and sustenance are really important under the hot sun and he CBD eateries will be very busy if you can get to them at all
Keep your children close – There'll be thousands of kids there which will make yours even harder to keep an eye on than usual
Be prepared to sacrifice your shoulder for the cause – Again if you have kids, it might be standing room only, which means they'll be on your shoulders for the most of it
Conclusion
The Santa Parade in Auckland is Christmas magic at its best. The big crowds can be intimidating, but if properly prepared, you'll enjoy a magnificent atmosphere and create memories that will last a lifetime!
Related Posts
Book a vehicle for this trip
We recommend: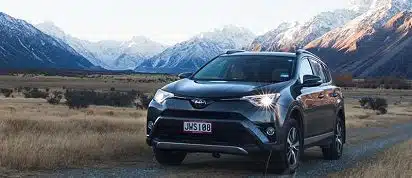 Intermediate 4×4
Toyota Rav 4
Seats

5 seats

Large Bags

3

Small Bags

4

Transmission

Auto trans