December is the month to be jolly in New Zealand, just like it is in most places around the world!
Being near the start of summer, it's also a month where we have a large number of tourists visiting to experience all our great sights and attractions.
We thought it'd be helpful to curate a list of the best Christmas events taking place right throughout the country so that our visitors can mix some of these events into their schedules and mingle with the locals enjoying the festivities!
1. Coca Cola Christmas in the Park
View this post on Instagram
The Coca Cola Christmas in the Park event is one of the most iconic Christmas celebrations in New Zealand. 2019 will be the 26th year of the party hosted in the grounds of the wonderful Auckland Domain.
Those in attendance can expect an evening of laughter, music, entertainment and fun on the big stage in amongst an expected audience of 250,000 people.
It makes for a great night out on a warm summer's day with proceeds going to a fantastic cause in the Youthline charity. Just make sure you get there early to grab the best spots!
Event: Coca Cola Christmas in the Park
When: Saturday 14th December 2019
Where: Auckland (a similar event takes place in Christchurch in November)
2. Christmas Comedy Season at the Classic
View this post on Instagram
The mad rush of running around to get things done over Christmas can sometimes get a bit stressful at the best of times. It's important then to set some time aside and have a few laughs when you can.
There's no better place to do that than at The Classic in Auckland where they get jolly with their Christmas Comedy Season that runs through December. Fridays and Saturdays will have the biggest shows of the week with packages that include food and drink available. There'll also be a programme of shows during the week as well.
Featuring some of New Zealand's most well-known comedians as well as special guests from around the world it's something you won't want to miss.
Event: Christmas Comedy Season at the Classic
When: Throughout December 2019
Where: The Classic in Auckland
3. The Wellington Christmas Markets
View this post on Instagram
Some people might think you can't have a proper Christmas Market in the Southern hemisphere, bereft of winter coats, snow and gluhwein.
The Wellington Christmas Markets prove those doubters wrong and are a great thing to experience when visiting our nation's capital.
The markets are hosted in a covered space under Frank Kitts Park and feature hundreds of stalls filled with a fantastic range of locally made Christmas gifts and trinkets you can enjoy.
There's also no shortage of street food vendors to get your appetite satisfied as well as live music to keep you in the Christmas spirit and entertained.
Event: The Wellington Christmas Markets
When: Four weekends leading up to Christmas
Where: Wellington – Jervois Quay under Frank Kitts Park
4. A Christmas Carol
View this post on Instagram
Christmas is a great time to get into your favourite festive books and movies and it's also a good opportunity to attend a fantastic stage production. Charles Dicken's classic 'A Christmas Carol' showing in Christchurch is exactly that!
This iconic tale has a timeless quality that never grows old. Director Dan Bain's creative retelling sees it performed by just two cast members and a single pianist! The rest is filled in with interaction from the audience.
Now in its fourth year at The Court Theatre, it's a hugely popular production for all members of the family and is sure to get everyone into the Christmas spirit.
Event: A Christmas Carol
When: Saturday 30th November – Saturday 21st December 2019
Where: The Court Theatre – Christchurch
5. Multimedia Communications Santa Parade
View this post on Instagram
It wouldn't be a list of Christmas events without a Santa Parade! There would probably be more on this list actually but a lot of them take place in November.
The Multimedia Communications Santa Parade in Christchurch however, takes place in December and is a huge celebration as the biggest of its kind in the South Island.
This Santa Parade has been running for over 70 years and involves 2,000 participants and draws in over 100,000 spectators.
During the parade, you'll see Santa himself (of course) as well as all his little helpers and a wide variety of themed and sponsored floats. A great fun day out for the whole family!
Event: Multimedia Communications Santa Parade
When: Sunday 8th December 2019
Where: Christchurch
6. Festive Christmas with Christchurch Symphony Orchestra
View this post on Instagram
You can't have Christmas without Christmas music and the Christchurch Symphony Orchestra are doing a concert full of all your favourite festive hits.
Playing just a few days before Christmas at the iconic Christchurch Town Hall, the atmosphere and excitement for this show will be fantastic and is sure to bring out the season's best.
With Chief Conductor Benjamin Northey at the helm, you'll be in for a memorable night and set yourself up for a lead-up for your own Christmas celebrations.
Event: Festive Christmas with the Christchurch Symphony Orchestra
When: Saturday 21st December 2019
Where: Queenstown Events Centre – Queenstown
7. Naughty Christmas Horror'Ball
View this post on Instagram
For something not so family-friendly, the Naughty Christmas Horror Ball offers an alternative way to celebrate Christmas for those who feel so inclined.
They are known for doing things a bit different in the Deep South and this event, set perfectly in the grounds and surrounds of Larnach Castle, is a great example of that difference.
You'll get to dress up as your favourite horrifying character and experience a great 3 act show that has live music, belly-aching laughs and a touch of the risque.
Great fun and very popular too!
Event: Naughty Christmas Horror'Ball
When: 6th – 7th December 2019
Where: Larnach Castle – Dunedin
A Merry Christmas for everyone!
So that concludes our list of 7 awesome Christmas events to enjoy this December in New Zealand. We hope you've found it helpful and that it's given you a few good options no matter where you happen to find yourself this year.
Related Posts
Book a vehicle for this trip
We recommend: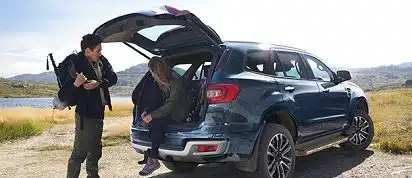 4WD SUV
Ford Everest Titanium
Seats

5 seats

Large Bags

4

Small Bags

6

Transmission

Auto trans