The coastal city of New Plymouth in New Zealand's North Island is a little gem of a destination with so much to offer. To prove it, we thought we'd share our 11 favourite things to do in New Plymouth!
Before we dive in, however, a little bit of history and geographical background to New Plymouth. Located in the beautiful Taranaki region, New Plymouth is best known as being the gateway to Mount Taranaki, located in Egmont National Park. The stunning conical and dormant volcano provides a stunning backdrop to almost everything you do in and around New Plymouth so make sure you have your camera at the ready at every possible opportunity.
When it comes to things to do in New Plymouth, this place is not short on attractions. We've picked out our top 18 things to do in New Plymouth, however, we'd love to hear from you if you think we've missed any 'must-do' activities in New Plymouth. Here GOes:
1. Brooklands Zoo
Brooklands Zoo is one of the country's best little zoos that always delivers a great day out. It's home to a lovely bunch of animals including farm animals, reptiles, meerkats, monkeys, tamarins and more. It's also got a fantastic bird aviary that you can walk through and an awesome playground for the kids to play in. Our favourites are the guinea pigs but there are plenty of stars at Brooklands to choose from. Entry to the zoo is free but it's partly maintained by donations at the gate so any bit you can give goes a long way.
2. Festival of Lights
Another great thing to do in New Plymouth is to go to a festival like the Festival of Lights. The Festival of Lights is a magnificent showcase of light through a variety of creative and colourful light installations. Hosted at the iconic Pukekura Park (more on this later) the festival takes place during the summer between December – February and draws crowds from far and wide. The festival is free to all and is a great bonus thing to include as part of your holiday.
3. Fitzroy Beach
New Plymouth is blessed with an amazing coastline and one of the best bits of it can be enjoyed at Fitzroy Beach. A popular spot for locals, it's a great all-round beach where you can swim, relax and it's also considered a great surf beach (officially part of the Surf Highway 45). There's also a motor camp nearby for a beachside stay and has great recreational facilities as well. The Surf Life Saving crew make sure no one gets into trouble out on the water and the sunset there is pretty special too.
4. Govett Brewster Art Gallery
The Govett Brewster Art Gallery (also known as the Len Lye Centre) is one of the most respected contemporary art museums in the Pacific. The museum has a constantly evolving collection that includes paintings, photography and kinetic sculptures for which the great Len Lye himself was famed. Situated in a stunning new building (that really needs to be seen to be believed) it also has a boutique cinema that regularly hosts film events too.
5. Mt Taranaki and Egmont National Park
The main attraction that draws people to New Plymouth is undoubtedly the mighty Mt Taranaki and the Egmont National Park. A stratovolcano, Mt Taranaki is incredibly easy on the eye, so much so that it was used as Mt Fuji in the Tom Cruise film, The Last Samurai. Sitting in the heart of the Egmont National Park visitors can choose from a good number of fantastic walks from short walks of a couple of hours to multi-day adventures.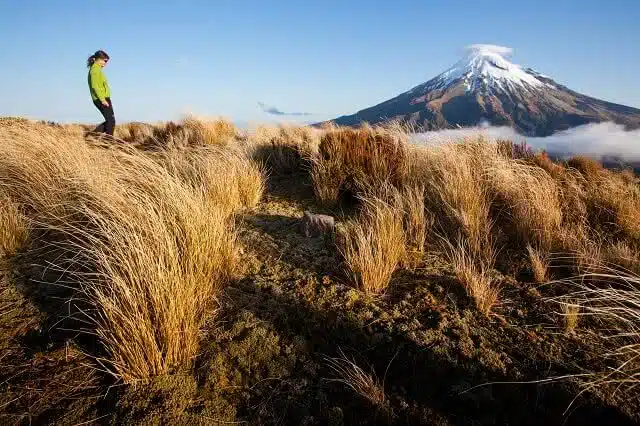 6. New Plymouth Coastal Walkway
If you're after a walk of the coastal variety, the New Plymouth Coastal Walkway is a 13km walkway that is nothing short of spectacular. Starting from Hickford Park, the route takes you past some great highlights before finishing at Ngamotu Beach. Some of these highlights include the stunning Te Rewa Rewa Bridge, the Len Lye Wind Wand and the view of the glorious South Pacific Ocean itself.
7. Meeting of the Waters Scenic Reserve
The Meeting of the Waters Scenic Reserve is one of the best-kept secrets in New Plymouth and a unique place too. It offers two pleasant tracks to walk (20 minute and 45 minute walk) around the spot where the Waiwhakaiho River splits in two. There are plenty of native trees to see including tawa, kahikatea, matai, rimu and totara and a suspension bridge to cross as well. A nice place to visit where you can easily take a picnic and even go for a dip to cool off.
8. Puke Ariki
New Plymouth is certainly not short of cultural attractions and Puke Ariki is another fantastic example. Puke Ariki is a knowledge hub that includes a museum, library, research centre and general information site for visitors. All parts of it are great and complement each other extremely well. Whether it's the natural history exhibition of the museum, the virtual reality experiences at the library or the archives and photographs of the research centre, you'll find there's something for everyone.
9. Pukeiti
Pukeiti is a lovely little garden sanctuary that is the place to be for some tranquil peace in quiet. It's known for its collection of rhododendrons that burst through with colourful in the native rainforest you'll find there. The gardens there are great and can easily preoccupy you for a few hours before a rest and a cup of tea at the fantastic Founders Cafe. If you're travelling with kids you can send them on the Kids Treehouse Trail for their own little adventure.
10. Pukekura Park
Pukekura Park is one of the most well-known parks in New Zealand as a fantastic natural showpiece for the city. At its heart, it's 52 hectares of picturesque botanical gardens but is home to so much more. The previously mentioned Brooklands Zoo is here as well as the TSB Bowl of Brooklands which hosts concerts and live performances. It has a lovely lake with great views from the tea house to enjoy. The fernery and display houses are well worth a visit to complete a great time there.
11. Sugar Loaf Islands And Paritutu Rock
Along with Mt Taranaki, New Plymouth has other remnants of volcanic activity to see like the Sugar Loaf Islands and Paritutu Rock. There are seven sugar loaf islands in total just off the coast with reefs and underwater features that are full of sea life. Paritutu Rock is actually on the coast itself and is a short (but steep) 15-minute climb. At its top, you'll enjoy splendid panoramic views of the Taranaki region and all that's around.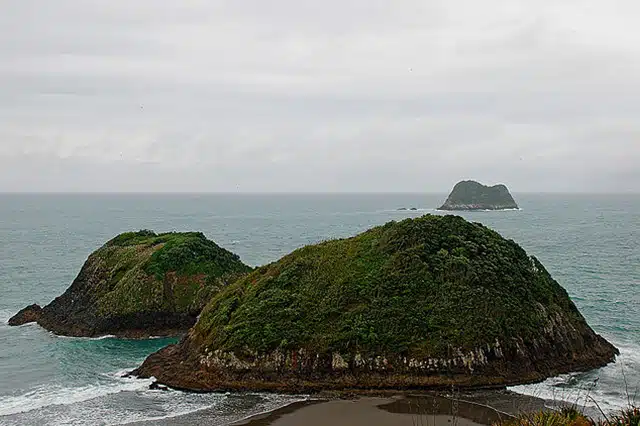 12. Tupare
Set on the picturesque banks of the Waiwhakaiho River, Tupare is a Plymouth icon. One of New Zealand's most beautiful and significant garden estates, it features a mix of native and exotic plants, including rhododendrons, azaleas, camellias, magnolias, and ferns which will take your breath away. In addition, there are also several water features, including ponds and streams, and a number of paths and walkways within this tourist attraction to explore. Now owned by the Taranaki Regional Council, the property is open all year round. Visitors can wander the gardens or take a guided tour of the homestead, and even attend special events and exhibitions.
13. Back Beach
Over on the west coast of New Plymouth, Back Beach is a popular beach that is known for its wild, rugged, natural beauty. Backed by high cliffs, which you can climb for stunning views of the Tasman Sea and the surrounding coastline, the beach is a popular spot for experienced surfers who relish swell that can get up to 3.5 metres high. Swimming and boogie boarding are regular activities here too, while there are some cool rock pools and caves to explore along the sand. If you fancy a walk along hiking trails, the New Plymouth Coastal Walkway runs all the way to Fitzroy Beach.
14. Lake Mangamahoe
Just a short 15-minute drive from New Plymouth lies Lake Mangamahoe. As well as being a popular location for fishing, SUP and kayaking, this stunning body of water is also presided over by Mount Taranaki. On a calm day, this creates one of the North Island's most incredible sites when a perfect reflection of it is formed on the surface of the water. Other things you can do here include mountain biking, walking, and running, while there is also a bridle path for horses and lots of spots for an outdoor picnic.
15. Walk The Coastal Walkway
The New Plymouth Coastal Walkway is an iconic 12.7km walking path that extends along the coastline from Port Taranaki in the north to Bell Block Beach in the south. It showcases sensational views of the vast Tasman Sea, incredible beaches and the iconic Mount Taranaki. Very well maintained, its smooth, flat surface is suitable for walking, running, cycling, and skating and passes by various parks, public art installations and recreational facilities. Its major highlights include the magnificent Te Rewa Rewa Bridge, which spans the Waiwhakaiho River, and the Wind Wand, a 45-metre-high kinetic sculpture designed by the famous New Zealand artist, Len Lye.
16. Surfing
Offering consistent surf conditions year-round, New Plymouth is one of the North Island's best surfing destinations. The region is known for its natural beauty and world-class surf breaks which attract all levels of surfers from New Zealand and abroad. Overall there are quite a few popular surf breaks in New Plymouth worth riding. These include Oakura Beach, Stent Road and Mokau. Experienced surfers should head to Back Beach which is known for its powerful and consistent waves, and is also the home of the annual Taranaki Surf Classic competition. While Fitzroy Beach is a good starting point for beginners.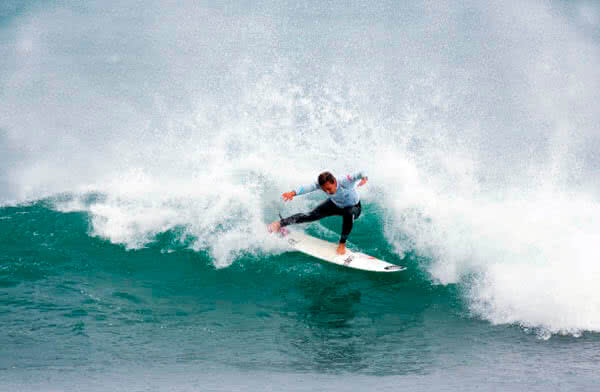 17. Take A Brewery Tour
If you love beer, then you will be in your element in New Plymouth, as it is home to several outstanding craft breweries. Many of these offer tours for visitors, which provide a great opportunity to learn about their brewing process, taste unique and locally-made brews and experience the vibrant craft beer scene in the city. Some of the popular breweries in New Plymouth that offer tours and tastings include Shining Peak Brewing and the Three Sisters Brewery. Both are based near the city centre and pride themselves on using locally-sourced ingredients and sustainable practices.
18. Eat The Amazing Food That The City Has To Offer
New Plymouth is a big haven for foodies, with its vibrant culinary scene offering a variety of unique and delicious foods to try. As it is located on the coast, it's no surprise that seafood plays a major part in the local gastronomic landscape. Be sure to try the local delicacy of whitebait fritters while you are there, as well as fresh fish and chips, and creamy seafood chowder. Elsewhere, sweet and savoury pies are also much loved here, while the region excels in the production of artisanal cheeses. The coffee culture is exceptional too.
Some Great Things To Do In New Plymouth!
As you can see, there are some great things to do in New Plymouth. From the magnificent Mt Taranaki to the gardens of Pukekura Park, it's full of great attractions that will keep you and your travelling party happy on your New Zealand road trip!
New Plymouth is pretty accessible from anywhere in New Zealand with its own regional airport and daily flights from Auckland, Wellington and Christchurch. Of course, you can take a road trip and travel to New Plymouth by road. Pick up a rental car in Auckland or one of our hire cars in Wellington and take a roadie.
Related Posts
Getting there and away
New Plymouth is pretty accessible from anywhere in New Zealand with its own regional airport and daily flights from Auckland, Wellington and Christchurch. Of course, you can take a road trip and travel to New Plymouth by road. Pick up a rental car in Auckland or one of our hire cars in Wellington and take a roadie.
Book a vehicle for this trip
We recommend: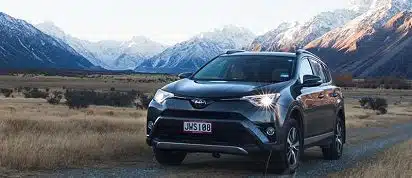 Intermediate 4×4
Toyota Rav 4
Seats

5 seats

Large Bags

3

Small Bags

4

Transmission

Auto trans