On the sunny East Coast of the North Island, you'll find the coastal city of Napier and a popular tourist destination in New Zealand. We thought we'd talk about our favourite things to do in Napier so you can start planning your next trip there!
1. Art Deco Guided Walks
One of the most devastating natural disasters in New Zealand's history was the Napier Earthquake in 1931 that killed 256 people with nearly all its buildings were destroyed. From that tragic event, a massive rebuild was undertaken, much of it in the style of the time which happened to be Art Deco. In doing so, it created one of the most unique cities in New Zealand with people travelling from all over to see its unique Art Deco buildings. The Art Deco Trust do some great walking tours which should be the first thing you do!
View this post on Instagram
2. Bluff Hill Lookout
Napier is blessed with an amazing coastline and there's no better place to appreciate it than from the Bluff Hill Lookout. The walk itself gets a little steep but you can also cheat and drive up if you need to rest the legs. The panoramic views are incredibly rewarding whatever way you get there. It's also a great vantage point to see ships come in and out of the busy working port of Napier.
View this post on Instagram
3. Botanical Gardens
The Botanical Gardens in Napier date back to the 1850s (pre-dating the city itself) and is a relaxing way to spend a few hours during your trip. The gardens have a wonderful variety of plants and trees that attract an incredible population of native birdlife. Amongst some of its features, you'll find an aviary of budgies, a lovely little duck pond and an old historic cemetery with tombstones from the 19th Century.
View this post on Instagram
4. Cape Kidnappers
Perhaps the most iconic natural landscape in the region has to be Cape Kidnappers. Cape Kidnappers is a stunning peninsula less than 30 minutes' drive from Napier. The peninsula is characterised by its stunning pale cliffs that tower over the surrounding sea. It's also home to a large colony of gannets and there are several operators, like Gannet Beach Adventures, who run tours to see them! There's also a smashing golf course there too so don't forget your clubs!
View this post on Instagram
5. Faraday Centre
New Zealand has many fantastic local museums and a great example of one is the Faraday Centre. The Faraday Centre is a museum of history and technology and has a treasure trove of things to discover. One of its many great items is a working Tesla Coil, generator of huge energy. It also has a great collection of vehicles, engines, household items, communication devices and more from New Zealand's past. Highly interactive and extremely immersive!
View this post on Instagram
6. Marine Parade
One of the great things about Napier is that one of its best attractions is very much a part of the city itself. Marine Parade is a 3km seafront promenade built originally as a sea wall but now has an array of facilities and things to see. These things include the Marine Parade Playground, Sunken Gardens, Tom Parker Fountain and an amazing viewing platform that looks out towards the sea. It's a great place to take a stroll that will warm your heart to the place instantly.
View this post on Instagram
7. MTG Hawke's Bay
Another great focal point for culture and history in Napier is MTG Hawke's Bay. MTG Hawke's Bay is a 3-in-1, museum, theatre and gallery that has something for everyone. Along with its permanent collections and exhibitions, it has a great seasonal programme as well. One of its most popular sections is the Napier Earthquake exhibition which chronicles the tragic event and the rebuild that happened after. There's also a great showcase of Maori culture on display and plenty more to fill your time.
View this post on Instagram
8. National Aquarium of New Zealand
New Zealand is home to some amazing sea and marine life and you can experience much of this at the National Aquarium of New Zealand. The Aquarium has an astonishing 1.5 million litre Oceanarium, home to hundreds of fish species which can be viewed via an underwater tunnel. They also have reptiles, kiwis, turtles, a giant squid display and the big crowd-pleaser – penguins. The penguin feeding times are at 9:30 am, 1:30 pm and 3:30 pm and aren't to be missed!
View this post on Instagram
9. Otatara Pa
The Otatara Pa Historic Reserve is one of the largest examples of an ancient Maori Pa in the country. For those who aren't locals, a Maori Pa was a defensive settlement that was usually built on a hill or mountain. Despite being over 400 years old, many of its features still remain, making it a fascinating place to visit. There are a number of walkways to enjoy and the views, especially at sunrise are incredible.
View this post on Instagram
10. Napier Prison
A prison wouldn't usually be on a list of things to do but Napier Prison is very special as the oldest penal facility in New Zealand. It stopped serving as an actual prison in 1993 but has since run daily tours that members of the public can go on. It's a spooky place with death row cells, a hanging garden and solitary confinement all there to be seen. There's even said to be a resident ghost or two. They've also recently opened their own Escape Rooms, which is great fun in a prison setting.
View this post on Instagram
11. Te Mata Peak
One of the most amazing natural attractions in the country can also be found in Napier being Te Mata Peak. You'll find it about 30 minutes' drive from the city centre and 399 metres above sea level. The Rongokako Trail is a loop trail that will get you to the summit and back in just over 2 hours. You can also get there via mountain bike or car. The views, needless to say, are amazing and on a clear day, you'll see right through to Mt Ruapehu.
View this post on Instagram
12. Te Ana and Tangoio Falls tracks
If you're keen to go chasing waterfalls, then you've got two great options for your trip to Napier. These are the Te Ana and Tangoio Falls tracks, both at the Tangoio Falls Scenic Reserve about 30km north of Napier. The walks to both are 30 mins and 60 mins respectively, in and around some beautiful native bush. You (or your kids) can even go for a swim in the streams but keep an eye out for the freshwater crayfish!
View this post on Instagram
13. Wineries
The Hawke's Bay region is known for its fine wine and is the oldest in the country and one of the largest too. There are no less than 200 vineyards across 76 wineries with 36 cellar doors that you can drop in on while you're there. Some of the best include Mission Estate, Te Mata Estate, Vidal Estate and Esk Valley. There's a great wine trail map that you can use for your own adventures or you can join one of the many wineries guided tours which are a nice social way of doing it.
View this post on Instagram
Some fantastic things to do in Napier!
We hope you've enjoyed this read of all the great things to do in Napier, the art deco capital of the world. It's one of the most unique cities in New Zealand and has plenty of things to do to please one and all!
Related Posts
Book a vehicle for this trip
We recommend: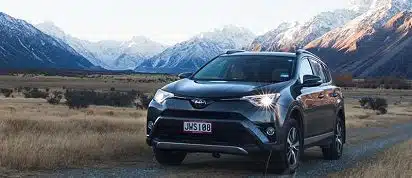 Intermediate 4×4
Toyota Rav 4
Seats

5 seats

Large Bags

3

Small Bags

4

Transmission

Auto trans