Summary: The Top 12 Things To Do In Wellington at Night
Craft Beer Trail

Maori cuisine at Hiakai Restaurant

Sleepover at Wellington Zoo

Space Place at Carter Observatory

Mount Victoria Sunset

Wellington Night Market

Time Cinema Nostalgic Film

Counter Culture Board Game Cafe

Comedy Clubs

Live Music Gig

Zealandia by Night

Glow Worm Tunnel at Botanic Gardens
---
12 Fun Things to do in Wellington at Night (Full Breakdown)
When it comes to travelling to New Zealand and visiting Wellington, the days are pretty easy to fill with outdoor adventure, road trips, street art, trendy cafes and cultural experiences. But, Wellington is known as the Craft beer Capital of New Zealand so you know the nightlife is going to be good. You can find some unique things to do in Wellington after dark, from exciting events for the whole family to venues just for the adults to enjoy; New Zealand's Capital has something for everyone.
Let's get GOing with the best things to do in Wellington at night!
1. Hop around the Craft Beer Capital
Craft beers have grown in popularity, so much so that you can do a beer trail through the city centre. You can get yourself a map, collect a stamp from every craft beer brewery and score free stuff like a certificate and t-shirt at the end to show all your mates you completed it. With 32 tap houses on the list, you are sure to fill your night tour with delicious fun and even take some craft beers home from the cellar doors. Be sure to check out these breweries even if you don't do the full trail:
Whistling Sisters in Te Aro
Set up in memory of the owners' sister who passed away from breast cancer, Whistling Sisters encompasses the family tradition of sharing food and drink. Taste one of their amazing beers and know that some of the profits will go directly to a breast cancer charity.
Heyday Beer Co in Te Aro
Brewing over 50 different beers each year, from spiced orange ale to tiramisu stout, you are sure to find something you like at Heyday. Pair all this with a cheese and charcuterie board and you will have yourself an awesome day!
Parrotdog Brewery in Lyall Bay
Finish your beach day with a cold one at Parrotdog Brewery, also conveniently located close to Wellington airport for a pre-flight beer. Founded and run by three friends called Matt, Parrotdog hones their expertise to create delicious award-winning craft beers.
Fork and Brewer in Te Aro
One of the first breweries on the craft beer scene, Fork & Brewer aim to brew the most diverse range of beers to suit any taste preference. Grab yourself a tasting paddle and sample some of their mouth-watering creations
2. Experience a night of Maori food
Hiakai Restaurant (which means hungry in Maori) is showcasing Māori and Pasifika ingredients in innovative dishes. The 30-seat fine dining restaurant serves only a degustation (the careful, appreciative tasting of various food) menu that is revealed once you sit down to eat, all developed around a Maori story or myth and each dish builds on the narrative. What better way to learn about the indigenous culture than through a memorable dining experience in the Capital city?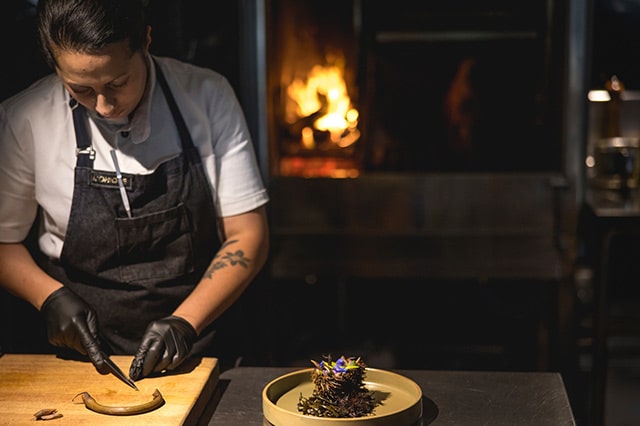 3. Have an exciting sleepover at the Zoo
As a child, sleepovers are pretty exciting and it doesn't get much cooler than staying in Wellington Zoo! You can bring your sleeping bag and snooze in many areas in the zoo near monkeys or critters, feed them after dark and even join in with the morning routine before Wellington Zoo opens to the public. Available for 5-year-olds and up, this is a wild night the whole family can enjoy.
4. Stare into Space at Carter Observatory
New Zealand has a rich culture in astronomy, Polynesian ancestors of Māori used the stars to navigate their voyage to New Zealand and the Matariki star cluster marks the Māori new year. Today, New Zealand astronomers contribute to space science and you can learn all about it in Space Place at Carter Observatory. With planetarium showings until 9 pm, Space Place is a magical way to spend an evening learning the constellations and looking through the heritage Thomas Cook telescope for a close-up view of the Galaxy.
5. Hike Mount Victoria for a Sunset view
For the best view of Wellington landmarks, the harbour and out along the Southern coast towards the South Island, you must explore Mount Victoria. The sunset here is simply stunning, offering you panoramic views as the night sky turns pink and orange. So pack a picnic, grab your friends, partner or family and either hike or drive up to the Mount Victoria summit for a relaxing evening.
Sunsets are the best free things you can do and we may be biased, but New Zealand sunsets are spectacular. So make sure you grab yourself a Wellington hire car to catch the best sunset viewpoints at Mt Victoria, Wellington waterfront, Scorching Bay, Red Rocks and further.
6. Explore the Wellington Night Markets
The night market, located on lower Cuba Street, is an awesome way to spend a Friday or Saturday night. Showcasing International food stalls, local entertainers and artists, the Wellington night market is one of the best things to do in the Capital city. Tasting delicious authentic food and watching performers for a few hours? Sounds great, get yourself there!
7. Have a Nostalgic Film Night at Time Cinema
Wellington is home to a cute private cinema and mini museum which is still family-run after 40 years. You can privately book this 39-seat cinema, catering and snuggle down to watch a nostalgic classic feature film or an array of New Zealand comedies, short films or pictorials. Take a look at the historic film equipment and memorabilia in the mini museum, mostly donated by film lovers, making this cinema a much-loved community hub. There are not many places in the world you can hire a private historic cinema, so visit Wellington for unique experiences like this.
8. Get Competitive at a Board Gaming Night
Conveniently located close to the city centre, Counter Culture cafe has over 900 board games so you can play well into the night. From cards, multi-player, retro to fantasy, and different sections for families and adults only, this late-night cafe has board games everyone can get stuck into. All of this with a delicious food menu and coffee on offer, you won't be bored after dark in Wellington.
9. Belly laugh at Comedy Clubs
Kiwi humour is loved internationally from critically acclaimed comedy films and series to stand-up comedy shows. There's no better way to experience the humour than at one of the many stand-up comedy clubs in Wellington, and on Friday and Saturday nights, you can watch a schedule dedicated to local Kiwi comedians at The Fringe Bar in Te Aro. Not only that, many international comedians visit Wellington city on their tours so you can laugh the house down any day of the week.
10. Dance the night away at a live music gig
Wellington boasts many vibrant live music venues and funky bars so you can dance, not only Saturday night but any night of the week to:
Folk music at San Fran on Cuba Street

Jazz in The Library at Courtenay Place

Metal at the Viking-themed Valhalla Tavern in Te Aro

Cuban DJ's at Havana Bar in Te Aro

Local rock bands at Moon in Newtown

Funk and Jazz at Rogue and Vegabond in Te Aro

Rock gigs at Meow in Te Aro

Rock'n'roll at the Cavern Club Bar in Te Aro
11. Explore Zealandia by Night
Zealandia wildlife sanctuary, just outside Central Wellington, is home to unique New Zealand species like the Kiwi bird, Weta and Tuatara. Explore Zealandia by torchlight and be lucky enough to catch a glimpse of the Kiwi bird and learn about the natural history and Māori Cultural link to the wildlife.
This Ecosanctuary also features in our Full Wellington Guide, check it out for the best accommodation, restaurants, free things to do and fun attractions to fill your days.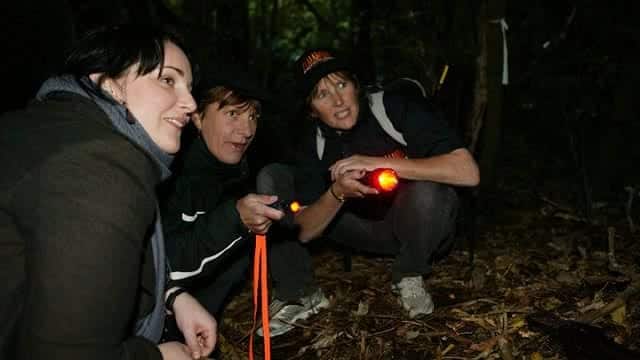 12. Go hunting for glow worms in the Botanic Gardens
Seeing the Botanic Gardens lit up by glow worms after dark is one of the most magical walking Wellington tours you can do. Their light glows as a trap to catch their dinner and they live in colonies, which is awesome for us humans to see. Catch the Wellington cable car from Lambton Quay up to the Botanical Gardens in time for nightfall to appreciate the views across Wellington harbour and the city, then enjoy one of the best free things you can do in Wellington.
---
Frequently Asked Questions
What is the drinking age in New Zealand?
The legal drinking age is 18 years old or older to be served in any licensed venue and you must provide IDs such as a driver's licence, passport or a Hospitality New Zealand card.
Is there public transport at night?
Certain train lines in Wellington can run until 11 pm. On Friday and Saturday nights, some Metlink bus lines will run from 12 am to 4:30 am.
Driving around Wellington at night
Taking advantage of all Wellington, and further, has to offer is best explored by car. Pick up a hire car at Wellington Airport and the team will be able to give you all the best tips and advice so you can get GOing on your Wellington adventure.