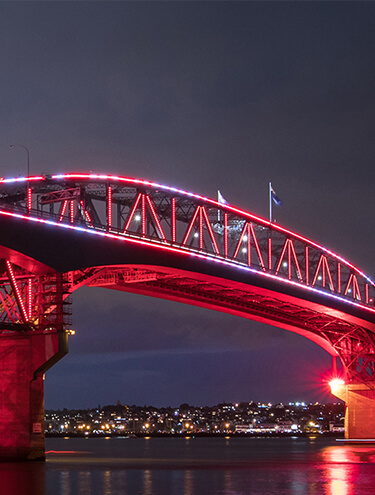 FAQ
Auckland Airport
Answering your questions about
renting a vehicle at Auckland Airport
Can't find the help you're looking for?
Frequently asked questions
How long does it take to get to the Auckland Airport branch from the airport?

For most people flying into

Auckland Airport

, our shuttle bus is the easiest way to get to and from the branch whether you are picking up or dropping off your rental car. It's a short 2-minute drive from the branch to either the domestic or international terminals. If you do want to stretch your legs after a long flight or just to get some fresh air, it's approximately 15 minutes to walk to the branch.
---
What is the walking distance from Auckland Airport to your branch?

If you do fancy walking to or from the branch to the terminals at

Auckland Airport

, it's approximately 800m which should take you around 15 minutes.
---
What are Auckland Airport branch hours and what is the after-hours process?

Our branch hours at the

Auckland Airport

branch are:
8am - 5pm Monday to Sunday
If you need to pick up or drop off your vehicle outside these hours, there is an after-hours service which will allow you to do so! Once you've confirmed your booking, we'll email you instructions on how to pick up and drop off your car outside of our branch hours.
---
How do I book my shuttle from Auckland Airport to your branch?

The easiest way to book our shuttle at

Auckland Airport

is through

our app

. As soon as you land, login to the app and at the touch of a button, we'll be there to pick you up - simple! If you haven't downloaded the app, you can also call us at the branch and the team will be right there to pick you up.
---
Where can I find special deals on car rental at Auckland Airport?

Looking for rental car deals at

Auckland Airport

? Make sure you have a look at our

deals page

. It's home to our latest discounts and offers and can help you save on your next hire. Downloading

our app

is another great way of having everything you need at your fingertips. For the latest car rental deals straight to your inbox, make sure you sign up for our newsletter and never miss a deal!
---
Do you do drop-offs or pick-ups from hotels in Auckland?

Unfortunately, we can't offer a pick up or drop off service from hotels to our Auckland Airport branch. There are a number of public transport options for getting to and from Auckland Airport and once at the terminal, you can make use of our free shuttle service to get to the terminal.
---
Do you offer one-way car hires from Auckland Airport?

We sure do. We can arrange one-way car hires to and from all our locations including Auckland Airport. There are a couple things you'll have to consider - we do have minimum hire periods in place, and one-way hires are dependent on the time of year and your direction of travel. On occasion, we will make allowances if we need vehicles in other branches. Make sure you keep an eye on our rental car relocation deals for all the latest rental car relocation deals.
---
What happens if I need to pick up or drop of my rental car at Auckland Airport out of hours?

We offer after-hours services at all of our branches excluding Auckland City. Once you've confirmed your booking, we'll email through some instructions. If you're returning to our Auckland Airport branch, we prefer you return during business hours where possible, however parking and key drops are available in Auckland, Wellington, Christchurch, Nelson, Queenstown, and Dunedin.
---
What time do your airport shuttles run until at Auckland Airport?

Our airport shuttles are running at Auckland Airport from 8am - 5pm 7 days a week. You can book your place on the shuttle using our handy app making things nice and easy when you arrive.
---
What will I need to bring when I collect my rental car from Auckland Airport?

You're one step closer to exploring NZ with us. When you come to collect your hire car at our Auckland Airport branch, you'll need a valid driver's licence and a credit or debit card for security. A credit card is mandatory if you have selected our Basic insurance option. It must have your name printed on it for verification and the card must be valid until the drop-off date.
---
How long will it take to drive from Auckland Airport to downtown Auckland?

If you are planning on staying in Auckland for a few days once you arrive, it's only a short drive into the city from the airport which will take you around 25 minutes depending on traffic. There are a couple of routes you can take but please ask a member of staff if you need any travel advice when leaving our Auckland Airport branch and they will be more than happy to point you in the right direction.
---
What is the most popular rental car at Auckland Airport?

We have a wide range of vehicles available for hire at Auckland Airport, however some of our most popular models include the Toyota Corolla Hatch and the Toyota Rav4.
---
What are the most popular destinations for people picking up a rental car in Auckland?

If you are hiring a car in Auckland, there are a number of great options within a short driving distance from downtown. Some of the most popular destinations include the Bay of Islands, Coromandel, Rotorua, Taupo and Hamilton. Find out more about the most popular holiday destinations from Auckland.
---
Read more FAQs