Summary: The Top Rotorua Things to do: Family Fun
Rotorua Duck Tours

Agrodome Farm Show

Geothermal Park and Mud pools

Skyline Rotorua

Lakefront Playground

Waimangu Volcanic Valley

Learn about Maori culture

Paradise Valley Springs Wildlife Park

Motion Entertainment

Rotorua Mini Golf

Native Birds at Wingspan

Government Gardens

Redwood Forest

Giant Maze

Bike Trails
Is Rotorua great for kids?
Rotorua (pronounced row-tuh-roo-uh) is a natural playground for children, and adults, to explore. With endless amounts of lakes, trails and natural pools to adventure in, along with exciting attractions like farm shows, sky gondola rides, mountain biking trails, escape rooms, trampoline park and a giant maze to get lost in; Rotorua is the perfect place for family fun.
Rotorua also has the largest Maori population of any city in New Zealand (approximately 1 third) and is famous for celebrating its Maori culture. It is the best place to visit if you want your children to learn about Maori history, traditions and rituals.
So whether you are looking for free things to do or cool experiences, you will want to GO to Rotorua with your kids after you read our 15 fun things to do with the whole family.
---
15 Fun Things To Do In Rotorua With Your Family (The full breakdown)
1. Ride a WW2 Craft with Rotorua Duck Tours
Rotorua has 18 pristine beautiful lakes in the region and you can explore some of them on New Zealand's only WW2 crafts (a small naval vessel that can go from land to water; pretty exciting for all ages!). Onboard Rotorua duck tours, you can learn about the history of the area as you go from driving the city centre to voyaging down lake Rotorua, lake Tarawera, lake Tikitapu or lake Okareka to name a few. This boat cruise is the best way to start your family trip as you get to see the immense volcanic landscape and appreciate how Rotorua lakes are steeped in Maori and ecological history.
2. Have a Legen-dairy day at Agrodome Farm Show
Let's admit it, farm animals are awesome for both young kids and us big "adult" kids. At New Zealand's most popular farm attraction, situated just a 10 minutes drive from Rotorua city centre, you can watch the biggest and best farm show and tour the 350-acre working farm. Your whole family can join in with the fun of hand-feeding farm animals, holding and cuddling babies in the small animal enclosure, milking cows and watching a sheep shearing show. We're sure the farm animals at Agrodome would keep you and your kids entertained all day!
3. Relax in Geothermal Park and Mud pools
Rotorua is a geothermal wonderland; you can find free and luxury hot pools for the whole family to dip into. From a Polynesian spa to a freshwater spring, relaxing on your holiday to Rotorua with younger children is possible. So if you are wondering if there are dedicated family pools when you visit Rotorua with kids then let us cover the best places you can go:
Polynesian spa
Think a spa is only for adults? Think again! Rotorua Polynesian spa has one of the biggest family pools complete with toddler sections, a hydro slide and two mineral hot pools (at a lower temperature than the hot springs). For a family ticket, you can also gain access to the Deluxe lake spa boasting 5 hot pools with lake views making this Polynesian Spa a super fun but relaxing day in Rotorua with kids.
Kuirau park
One of the best free things you can do in Rotorua city centre is Kuirau park. Walk through the nature trails and see the bubbling mud pools and thermal pond, have a foot bath and even see some natural water eruptions in this geothermal wonderland. Complete with a children's playground, you will be sure to have some family fun in Kuirau park hot springs.
We've also written up the best Free Things to do in Rotorua if you are looking to save on your trip to Rotorua with kids.
Kerosene Creek
It's pretty exciting as a kid to be able to jump into a freshwater spring and have a splash around. At only a 20-minute drive from Rotorua town centre, for free you can experience the hot pools and get a back massage from a small waterfall where all the locals in Rotorua love to go.
Hell's Gate
Hell's Gate is bathed in Maori history and was where the warriors would come to heal wounds and exfoliate their skin in the bubbling mud. Today the mud pools can be enjoyed by the public including younger children above 2.5 years of age and the sulphur spa hot pools can be relished by everyone over 6 months of age.
4. Go to New Heights at Skyline Rotorua
Skyline Rotorua is an awesome attraction for the whole family to get involved in. Ride your way from the city centre to a mountain overlooking Rotorua in a cool gondola and enjoy views across Lake Rotorua and the volcanic valley. You can then race each other down the largest luge track, zip line through Redwood forest, or catapult yourselves 50m into the air in a sky swing. We're sure Skyline Rotorua will be such a thrilling day, your children will be zonked out by bedtime.
Looking for a relaxing place to stay in Rotorua with kids? Check out our Complete Rotorua Guide for accommodation recommendations.
5. Let Loose at Lakefront Playground
No children's holiday, or any day for that matter, is complete without a trip to a children's playground, is it? Well, you'll be happy to know that there is an amazing new playground and boardwalk right next to Lake Rotorua. Complete with slides, a sand pit, a timber jetty, a carousel swing and a toddler section designed to look like the natural surroundings of Rotorua.
6. Waimangu Volcanic Valley
An area steeped in history, geothermal activity and natural ecological systems to learn about, Waimangu Volcanic Valley is a perfect educational family fun day trip. Book a guide tour to see the stunning Mount Tarawera active volcano and learn about the incredible pink and white terraces, once the 8th wonder of the World until the eruption of the volcano in 1886. See how many facts you and your kids can remember about the only geothermal system in the world to have been naturally created within written history (the last 5,000 years), how cool is that?
7. Learn about Maori culture
One of the best reasons to travel with kids is to teach them about the world, history and culture and have first-hand experiences they can't get in the classroom. You get all of this when you travel to Rotorua with kids to teach them about New Zealand's ancestry and how important it is to preserve Maori culture.
Mitai Maori Village
One of the most awesome Maori villages to take your kids, Mitai showcases traditional warriors setting sail in an ancient canoe, their amazing weaponry and their combat skills. All family members can be in awe of these traditions followed by an awesome earth-cooked Hangi feast.
Whakarewarewa – The Living Maori Village
Your children would love to see the jaw-dropping Jurassic Park-like landscapes of Whakarewarewa forest and Maori Village, which is still traditionally lived in today. It is the best place to go to give your children a chance to learn Maori history and see the rituals of their Polynesian ancestors.
Te Pa Tū (Previously named Tamaki Maori Village)
Tamaki Maori Village is an awesome place for family fun at you can join an evening of feasting, songs, traditional dances and rituals. It is the only cultural experience to receive a Supreme New Zealand tourism award, Te Pa Tū (Previously named Tamaki Maori Village) are experts in preserving traditions, legends and rituals.
8. Be blown away at Paradise Valley Wildlife Park
At only a 10-minute drive from Rotorua city centre, you can see a pride of African lions, hand-feed deer, native pigs, alpacas, emus and wallabies; super exciting for the whole family. Take a scenic track walk through the park and spot beautiful rainbow trout in the pristine lake or try and see kiwi birds in the native bush. We're sure hand-feeding animals could be a highlight of your family dun trip to Rotorua with kids.
9. Get Competitive at Motion Entertainment
Motion Entertainment has everything you could want for family day trips, a trampoline park, bowling alley, mini golf course, VR ride, mini go-karts, laser tag, arcades, escape rooms and more. So create your teams, decide on a family prize and whizz around all the activities at Motion Entertainment for a thrilling family fun day out in Rotorua city centre.
10. Discover Native Birds at Wingspan
Learning about birds is exciting so Wingspan is one of the best things you can do in Rotorua with kids and it's only a 10-minute drive from Rotorua city centre. Discover kiwi birds of prey and even the endangered kārearea, New Zealand's falcon in a 'flight of falcon' show. Younger children and older kids will be impressed by the cool training techniques and tricks and they can learn about how important wildlife conservation is.
11. Explore the Government Gardens
With the Rotorua museum, children's playground, beautiful gardens, blue baths and a tea house; you could spend a whole day of family fun at the Government gardens in the city centre. The Rotorua Museum is great for the whole family to learn about Rotorua and New Zealand history, Taonga Māori historical collection and sculptures and art from the area. Spend the afternoon relaxing in the bath house or try the tea in the tea house overlooking Rotorua lakes.
12. Be Amazed at Redwood Forest
One of the best free things you can do on a trip to Rotorua with kids is to pack a picnic and head to Redwoods forest. Here you can explore the trails through the magnificent giant redwoods or try an orientation trail where your kids get to spot the clues on a trail map to decipher the route. If you want to spend on an exhilarating activity then try your hand at the Redwoods Forest treetop walk where you can walk on suspended bridges 20 meters high in the sky, pretty cool!
13. Play against rabbits at Rotorua Mini Golf
The most picturesque 18-hole mini golf course in New Zealand. You can play here in central Rotorua day or night amongst native bush and animals. That's right, you and your children may see rabbits, frogs and native birds run across the course. Just be careful not to hit them with your ball.
14. Get Lost in the Giant Maze
A maze is always an awesome family fun activity as you bond to decide which way to go and laugh at getting lost. aMAZEme boasts 1.4km of hedge maze fun, a small animal enclosure to play with rabbits, a butterfly house and picnic tables. So pack your picnic and head 10-minutes out of Rotorua city centre for an affordable day out.
15. Try your hand at mountain biking with these Bike Trails
Rotorua is known as mountain biking heaven so it's an excellent place to get your children started in the sport. But don't worry, you don't need to set your children flying down an advanced track. There are many family-friendly bike trails for kids of all ages:
Kids Loop
Situated in Whakarewarewa Forest is a 5 km kids loop mountain biking course, for younger children and juniors learning biking skills. It's a fun native forest course that would take 2 hours to complete but has many shorter routes or places to bail out if you and your children get too tired.
Te Kotukutuku
An intermediate track for older children, this scenic track takes you through native forest and alongside Blue lake and lake Rotokakahi. The track is quite relaxing and an easy start for when you upgrade from the kids loop.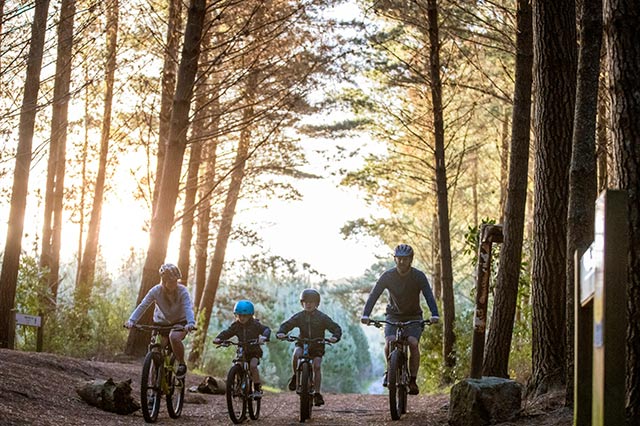 ---
Frequently Asked Questions
Can children go in a geothermal pool?
It is safe for children to go into a geothermal pool or hot springs for short periods of time. You must ensure your child stays hydrated and has regular breaks out of the hot pools.
It is not advised to take your baby into the hot pools as they are not yet equipped to regulate their own body temperature.
What are things to do in Rotorua with a baby?
Rotorua is great for exploring with a baby as its beautiful landscape means it is easy for you to stop anywhere, find a picnic table and let your baby rest with a great view. There are some good swimming beaches in Rotorua city centre with calm waters, or you can cruise along Rotorua lakes in a small group tour which would be relaxing for you and your baby. Babies can join in the family fun at a Maori village or exploring the Government gardens.
We have a range of family SUV's to hire that would fit in all of your baby essentials.
Where is Rotorua?
Rotorua is situated in the Bay of Plenty on New Zealand's North Island. It would take you 2 hours 30 to drive from our Auckland Airport car hire branch, with many stunning places to stop along the way to tick that classic Kiwi road trip off your bucket list. You could even continue your drive and drop the rental off at Wellington Airport so you can complete the full North Island in one trip.