Getting to a destination can often be a stressful and exhausting process. The last minute packing, the almost forgetting your passport, the mad-dash to the airport, check-in lines, airport security and that's before you've even stepped on the plane.
The last thing you need having arrived at your destination is a car rental fiasco. The team at GO Rentals understand this which is why we've fine-tuned our check-in process to make it as best and easiest in New Zealand!
Airport pickup on arrival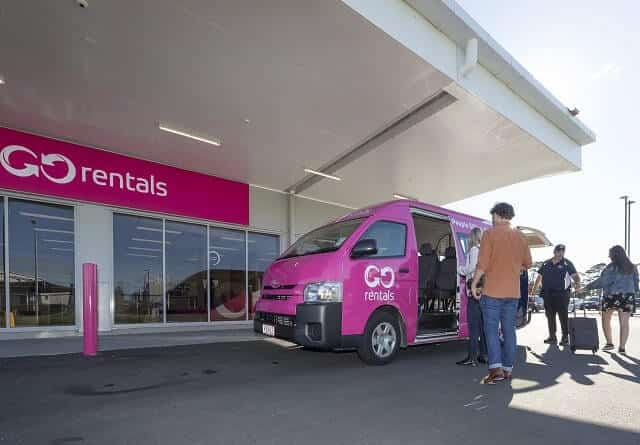 You don't have to be an executive to get first-class service as that's what the GO Experience offers right from the outset.
Upon arrival at your destination, be it in Auckland, Wellington, Christchurch or Queenstown – we'll be ready and waiting for your call or notification via our GO Rentals App.
As soon as we've heard from you, we'll be on our way and with you in no time at all to take you to our branch. No need to lug your bags halfway across the airport to a rental booth and then to a miscellaneous carpark where your car is. We take you there ourselves, suitcases and all, barely having to lift a finger!
Superfast Self-service kiosks
Having arrived at the GO Rentals branch, you'll be able to use our brand new superfast self-service kiosks to start your check-in process immediately.
Our kiosks make the check-in process a breeze. Simply, point, tap and pay and you're away. It's that easy! No fuss, no complications and even if you do have any questions, our staff are on hand and never far away.
It'll be over and done with so quickly you'll wonder if you've missed anything but you won't have we can assure you!
Tips, guides and discounts
If you're wanting to catch your breath a bit before hitting the road then a good place to do that is in our guides area where we have all sorts of travel tips, flyers and tourism operator deals and discounts on all sorts of attractions and activities you can think of.
This includes the 200+ discounts offered through our awesome GO Play card which all our customers get! There's plenty of reading material to get stuck into and take away to help you get the most out of your trip.
Once you're done there you'll be shown to your car and your New Zealand road trip adventures can begin!
Award-winning service
All these special touches combined was part of the reason why GO Rentals was nominated for and won the VistorIQ Service Experience Award at the 2018 New Zealand Tourism Awards!
In the New Zealand Tourism Award's most competitive year, the GO Rentals team was recognised for driving value through an outstanding visitor experience. The judging panel commented that GO Rentals had "done a phenomenal job of gearing everything it does towards delivering a world-class visitor experience."
It was one our proudest moments yet but we're far from finished and are determined to continue leading the way in visitor experience!
Watch our video and see for yourself!
Actions speak louder than words and you can see exactly how it all works in practice through this quick video that shows you just how easy our car rental experience is!
Look forward to seeing you all soon!
Why choose GO?
2018 was a huge year for GO Rentals. Not only were we awarded the Canstar Blue Customer Satisfaction Award in the Car Hire Category, we also picked up the Visitor Experience Award at the annual New Zealand Tourism Awards. Read more about the 'GO Rentals' difference' and book with us today.
Related Posts