Updated: 19 April 2022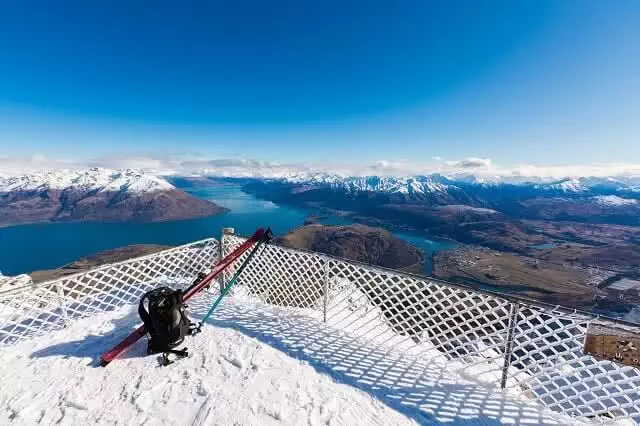 That's right people, the Queenstown Ski Season is nearly upon us. This is not a drill!
Whilst summer here in New Zealand is what attracts so many visitors to our beautiful country, for many, winter's where it's at!
At the heart of this is Queenstown.
New Zealand's adventure capital is also New Zealand's ski capital. With two ski fields within easy driving distance and another two just a short hop over in Wanaka, it's easy to see why so many people flock to Queenstown every year for some of the best skiing in the Southern Hemisphere.
This year more than ever, we are recommending that you dig out your winter warmers and get planning a trip to Queenstown. As we open up our borders once more to visitors from Australia, and later in the year, from the rest of the world, Queenstown needs you more than ever! Like many places in New Zealand, Queenstown has been hit hard and bars and restaurants need your support so let's try and create the best ever atmosphere in Queenstown this winter and back your backyard.
Ski Season Dates – Queenstown and Wanaka
Ski season in Queenstown and Wanaka runs from mid-June right through to the middle of October depending on the snow levels for the year. The approximate dates for ski season in Queenstown and Wanaka have recently been announced so get these dates marked in your diary and start planning your Queenstown ski trip today.
Here are the dates for the Queenstown Ski Season:
The Remarkables – 18 June to 16 October 2022
Coronet Peak – 17 June to 25 September 2022
Cardrona – 11 June to 16 October 2022
Treble Cone – 25 June to 25 September 2022
These dates are subject to change depending on snowfall so make sure you keep an eye on the NZ Ski website for up-to-date info on the opening dates for Queenstown and Wanaka Ski Fields.
Discover Queenstown
Queenstown is one of the big draws for anyone planning a trip to New Zealand. This year, all ski slopes in New Zealand, and especially in Queenstown and Wanaka, are excited to be welcoming back international visitors for the first time in two years. Whilst last year's short-lived Trans-Tasman bubble allowed for a limited period of travel from Australia, this is the first year people can book with confidence from Australia to come and get their ski fix for the year on New Zealand's world-class ski slopes.
Winter down in Queenstown is just as busy as the summer as people flock to ski on some of the most accessible ski slopes in the world. There is something for everyone down in Queenstown and Wanaka whether you're a beginner hitting the slopes for the first time or a seasoned professional looking for a fresh challenge.
Once the skiing is finished for the day, the city really comes to life and Queenstown's apres-ski scene is another big draw. The smell of log fires hits you as soon as you head out to explore the city and every bar has that cosy vibe going on that makes this time of year so special.
This year is also a great time to give skiing a go for the first time. Whilst the slopes might be busier than in the last two years, everyone working in the ski and tourism sector is excited to be back at work and everyone will be pulling out all the stops to ensure this winter is one of the best ski seasons in memory, making up for lost time over the past couple of years.
If you're planning on heading down to Queenstown this winter, whether you're a seasoned veteran or it's your first time visiting the city, make sure you check out our City Guide to Queenstown for all the top tips on where to stay, where to eat and what to do when you're in town!
Queenstown Ski Fields
Queenstown is the biggest draw for skiing in New Zealand. With two ski fields located within easy driving distance of the city centre, it's easy to see why. There are two main ski fields in Queenstown: Coronet Peak and The Remarkables. Both offer up a different experience for skiers of all levels so here's a bit more about them both.
Coronet Peak
Coronet Peak is the closest ski field to Queenstown and is just a short 25 minute drive away. Catering for all levels, Coronet Peak is a great place for beginners. There are two terrain parks, a tubing park as well as some great runs for all levels, the longest being 2.4kms. There is some roller coaster terrain at Coronet Peak making it a great playground for those wishing to have a bit of fun.
Coronet Peak also offers night skiing which is a lot of fun if you have never done it before. You can ski from 4.00pm to 9.00pm on Wednesday, Friday and Saturday nights throughout the season making it great for those who are making a long weekend of it down in Queenstown. There are also three leaner conveyor belts to help beginners get up on the slopes without having to attempt the tricky T-Bar lift.
All in all, Coronet Peak is a great place to head for some awesome winter skiing.
The Remarkables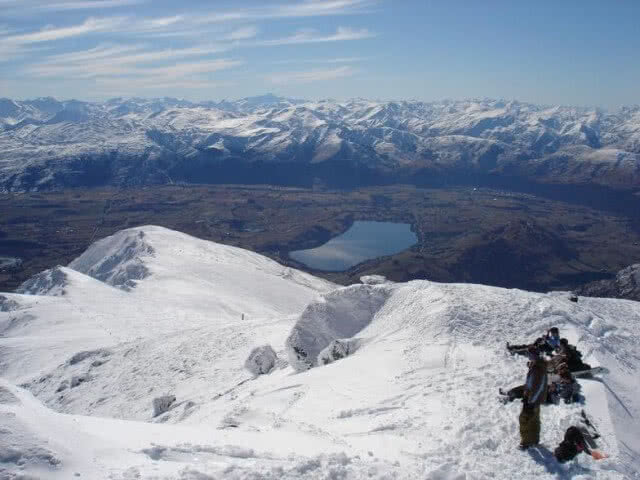 The Remarkables are located just a little bit further away (around 35 mins from downtown Queenstown) but offer up a slightly different experience. There is a true alpine feel to the Remarkables Ski Field with terrain to suit all abilities. There are three terrain parks as well as a long run that tops out at 2.5kms so plenty of ski slopes to be explored.
Like Coronet Peak, The Remarkables also has three surface conveyor belts that are perfect for beginners looking to get up on the slopes and practising! As well as the three terrain parks, the Remarkables has a number of slopes that are suitable for all levels with 30% suited for beginners, 40% for intermediates and 30% for experts.
Open from 9.00am to 4.00pm daily, The Remarkables are a great option for skiing in Queenstown.
Wanaka's Ski Fields
Whilst many people choose to base themselves in Queenstown, if you're looking for something a bit more laid back with less hustle and bustle, Wanaka is a great option. Often referred to as Queenstown's little brother, a short hop over the Crown Range will bring you into Wanaka (where you will actually pass the Cardrona Ski Field). Wanaka has a much more laid back feel but the skiing is still amazing.
There are two ski fields located in close proximity to Wanaka: Cardrona and Treble Cone. Like Queenstown's ski fields, both of these destinations cater for skiers of all levels and ability and are super accessible.
Treble Cone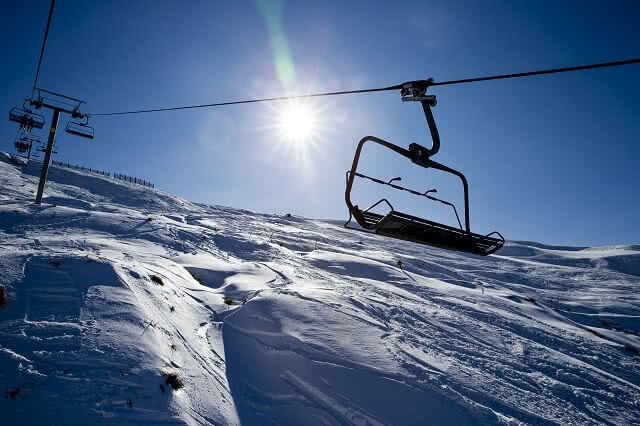 Treble Cone is a resort that is more targeted towards intermediate and advanced skiers and snowboarders but there are still good options for beginners and families including two terrain parks. Treble Cone is the South Island's biggest ski field making it hugely attractive as it tends to be less crowded.
Treble Cone is also home to New Zealand's longest ski run at a leg burning 4kms which is great for those who are used to the longer runs often found in Europe and the USA.
Cardrona
Cardrona is another awesome ski field that is easily accessible from Wanaka and Queenstown. The ski field is more suited to beginners with 25% of the runs aimed at beginners but that doesn't mean there isn't plenty to keep the more advanced skiers happy too with 50% of the slopes dedicated to advanced and expert skiers.
Cardrona tends to get more snow than neighbouring Coronet Peak and the Remarkables as the base of the ski field is located at a higher altitude. Cardrona is super-popular but with three other resorts in the area, none of the ski fields in Queenstown and Wanaka tend to get overcrowded.
Winter Events in and around Queenstown and Wanaka
With a hugely captive audience, it's perhaps no great surprise that Queenstown and Wanaka play host to a number of big events throughout the winter months.
Here are some more big events taking place in and around Queenstown this winter:
Winter Games
When: 29 August – 5 September 2022
Where: Cardrona, Coronet Peak and the Remarkables
Website: https://www.wintergamesnz.kiwi/
Winter Pride
When: 26 August – 4 September 2022
Where: Cardona and the Remarkables
Website: http://winterpride.co.nz/
NZ Mountain Film Festival
When: 24 June – 2 July 2022
Where: Wanaka and Queenstown
Website: http://www.mountainfilm.nz/
Peak to Peak
When: Saturday 10 September 2022
Where: Queenstown
Website: https://peaktopeak.nz/
Queenstown Car Hire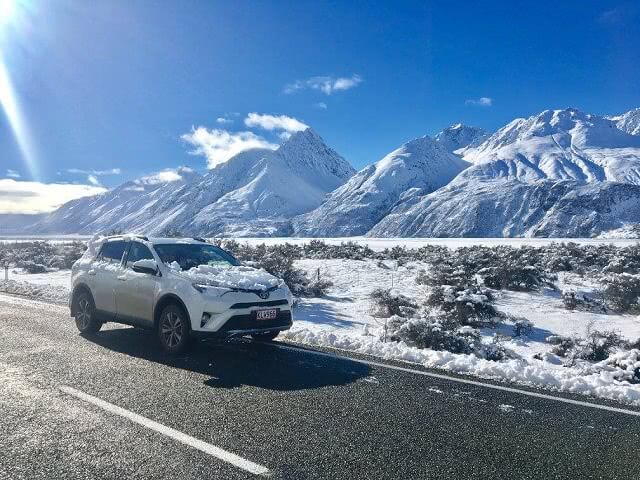 Let's make this year's Queenstown Ski Season the best one yet! We're so excited to welcome thousands of visitors to Queenstown once again and after years of getting people GOing, we've got everything ready to get you out and exploring the slopes in no time at all.
If you are planning a skiing trip this winter and need to hire a car in Queenstown, look no further than GO Rentals. We've got hundreds of new and late model cars which are perfect for the terrain. From the Toyota Rav4 and Ford Everest to the Mitsubishi Pajero Sport and ASX, we've got you sorted. We also have ski chains and ski racks for rent so make sure you get everything sorted before you arrive and spend less time with us and more time on the slopes.
Skiing in New Zealand
If you fancy a change this year and want to explore some of New Zealand's other ski resorts, make sure you check out our post which takes a look at 5 of New Zealand's best ski resorts – we're sure you will find the perfect destination for winter skiing in Queenstown and beyond!
Book a vehicle for this trip
We recommend: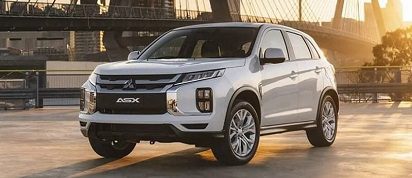 Compact SUV
Mitsubishi ASX
Seats

5 seats

Large Bags

1

Small Bags

2

Transmission

Auto trans