Doubtful Sound, more often than not, plays second fiddle to New Zealand's famous Milford Sound. This shouldn't, however, deter you from taking a trip to visit this truly stunning place which is just a magical with a little less hustle and bustle.
We've put together a Doubtful Sound Guide to tell you all you need to know.
View this post on Instagram
How did Doubtful Sound get its name?
Doubtful Sound was first named 'Doubtful Harbour' by Captain James Cook in 1770, who decided against entering the Sound for fear he might not be able to sail out. Whalers and sealers named it Doubtful Sound soon thereafter.
At 421m deep and with a distance of around 40km from Deep Cove to the open ocean, Doubtful is the deepest of the fiords, three times longer and 10 times larger than Milford Sound.
How do you get to Doubtful Sound?
The only way to get to Doubtful Sound is by boat. Cruises for Doubtful Sound, like the Real Journeys Wilderness Cruise, depart from Manapouri which is approximately 2 hours from Queenstown by car. From there, you'll take a cruise across Lake Manapouri followed by a coach trip on the other side, over Wilmot Pass, to Deep Cove where your Doubtful Sound adventures will start.
What to do in Doubtful Sound?
If solitude is what you're after, Doubtful Sound in New Zealand's Fiordland National Park has an atmosphere that will leave you feeling humbled. Often called the 'Sound of Silence', the untouched wilderness of Doubtful Sound with its ancient landscape and moody waters is more than enough to leave you feeling mesmerised.
That being said, there are plenty of things to do in Doubtful Sound to keep you occupied.
Doubtful Sound Overnight Cruise
A regular Doubtful Sound cruise lasts a few hours once you're there and is an amazing experience but a great way to make this even better is to do a Doubtful Sound overnight cruise. Because it takes a while to get to Doubtful Sound itself (which is part of the adventure) an overnight cruise gives you that little bit of extra time to appreciate it and take it all in. This means more exploring on the waters, more time for on-water activities and the special experience of sleeping under the stars in one of the quietest locations on the planet.
View this post on Instagram
Sea Kayaking
Sea kayaking in Doubtful Sound gives you a close and intimate experience of the magical and unique waters. A full one-day tour will be led by an experienced and knowledgeable guide who will take you to all the secret spots only a local knows. The scenery you'll get to see which includes dense native bush, towering peaks and cascading waterfalls is nothing short of breath-taking. You'll also potentially have the chance to enjoy some close encounters with the natural wildlife including penguins, NZ fur seals and bottlenose dolphins.
View this post on Instagram
Walks
As already mentioned, Doubtful Sound is in the heart of the Fiordland National Park which means there are a number of walks you can enjoy while you're there. There is a total of four walks that start from Deep Cove and last from 1 – 3 hours in duration. For those who fancy something casual, the Brasell Point Nature Walk is a lovely option that takes you to the Helena Falls lookout. For something a bit more advanced, the Hanging Valley Track is a steeper climb that takes you to some great viewpoints of the Huntleigh Falls.
View this post on Instagram
Fishing
The waters of Doubtful Sound are rich in sea life which makes for some excellent fishing. Most of the cruises have their own cray pots set up to catch the delicacy that is crayfish which they'll serve you for a great lunch or dinner. Otherwise, you'll be able to cast your own line out to try and grab a blue cod and kingfish that are regulars in the waters.
View this post on Instagram
Photography
With the stunning scenery of granite peaks, hypnotic waterfalls and ice-age valleys before your eyes – you'll want to make sure you get a few snaps to show your friends and family back home. As well as taking your own photographs, there are actually photography focussed tours that you can join in Doubtful Sound. With experienced photographers, you'll be shown a whole host of professional tips and tricks for taking some spectacular shots, perfect for the conditions and surroundings at the Sounds.
View this post on Instagram
Experience the peace and tranquillity of Doubtful Sound
A unique wilderness rich in Maori Legend, isolated and forever changing in mood, Doubtful Sound has a mesmerizing atmosphere, with a silence only broken by its waterfalls and wildlife. For the ultimate getaway from the noise of civilization, this is nature at its most serene and is not to be missed!
Related Posts
Book a vehicle for this trip
We recommend: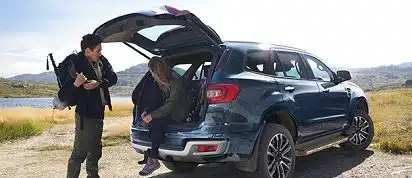 4WD SUV
Ford Everest Titanium
Seats

5 seats

Large Bags

4

Small Bags

6

Transmission

Auto trans