Looking for ideas for things to do in Hokitika? You've come to the right place! Hokitika is a town in the West Coast region of New Zealand's South Island, 40 kilometres south of Greymouth, and close to the mouth of the Hokitika River. It is the seat and largest town in the Westland District.
Hokitika is an old gold mining town and whilst many people choose to stay up in Greymouth, we're here to convince you that Hokitika is worth more than just a passing glance as you drive up or down the West Coast of the South Island.
From walks to waterfalls, lakes to museums, Hokitika is packed full of things to do and with plenty of attractions to keep you busy in Hokitika, we recommend giving it a stop off the next time you are exploring the South Island.
To prove it, we thought we'd share 11 of the best things to do in Hokitika that will excite you so much you'll be planning your next trip there by the end of it!
1. Dorothy Falls
New Zealand is a great place for many things and one of those is waterfalls. Less than 30 minutes' drive from the town centre you can be at one of the best in the region. Dorothy Falls is a beautiful multi-step waterfall that sits on the eastern side of Lake Kaniere. It's just a minute's walk from the carpark in a wonderfully secluded spot in the woods. It's incredibly photogenic so you're guaranteed some impressive Instagrams to impress all the friends and family back home.
View this post on Instagram
2. Glow Worm Dell
New Zealand is a place with some amazing wildlife and one of the most wondrous can be seen in Hokitika. Glow worms are a visual marvel which can be found at the Glow Worm Dell not far from the main township. Just in case you don't know, this is a night activity so you might want to take a torch to follow the path though it's only a short one to the dell. Inside you'll see the glow worms almost straight away which are often described as beautiful fairy lights.
View this post on Instagram
3. Hokitika Beach
People in New Zealand often say "The West Coast is the best coast" which is something you'll likely agree with when you go to Hokitika Beach. It sits on a beautiful bit of coastline and is known for an unusually large amount of driftwood that comes in with the tide. There's an iconic monument to this which is the Hokitika Sign – itself built out of driftwood. It also happens to be a beautiful spot to appreciate a West Coast sunset too.
View this post on Instagram
4. Hokitika Gorge Walk
Hokitika is lucky enough to have some incredible natural features which includes the Hokitika Gorge. The walk is a short one at 15 minutes, but it definitely packs a lot in over that time. You get the greenery of the surrounding native forest, the stunning turquoise waters of the Hokitika River, the rugged rock formations at its banks and get to cross an amazing swing bridge too. A great one for the whole family that's not to be missed.
View this post on Instagram
5. Hokitika Museum
If you're keen to learn a bit more about the fascinating history of Hokitika then there's no better place to do that than Hokitika Museum. The museum covers much of their unique past including the days of the gold rush era, the thriving whitebait industry, stories about the early pioneers and more. Housed in a beautiful old building and open daily, it's a great way to spend a few hours.
View this post on Instagram
6. Lake Kaniere
Lake Kaniere is one of two beautiful lakes (and scenic reserves) to enjoy on the doorstep of Hokitika. As well as being a popular campsite (managed by the Department of Conservation) it's also a great place to enjoy a lakeside picnic too. There are a number of popular tracks to walk (or mountain bike) which range from 2 – 4 hours. There's also an advanced track to the peak of Mount Tuhua but at 7 hours, you'll need to be pretty fit for that!
View this post on Instagram
7. Lake Mahinapua
The second lake, about 10 mins drive south of Hokitika, is Lake Mahinapua – another scenic reserve and another great place to get to. It's smaller than Lake Kaniere but no less charming with plenty of its own offerings to keep you busy. One of our favourites among these is the Mananui Tramline walk which follows an old logging tramline. It's an easy 2-hour stroll that takes you along boardwalks, through a forest and past an old sawmill site from the 1800s.
View this post on Instagram
8. National Kiwi Centre
The country's famous national bird can be seen in the flesh at the National Kiwi Centre in the heart of Hokitika. Housed in a nocturnal sanctuary, you'll have the best seats in the house to see kiwi scurrying about. As well as this you'll also see Tuatara (NZ's oldest reptile) and Giant Eels (the largest in the world) that are between 85 – 100 years old. Feeding times are 10:00 am, 12:00 pm and 3:00 pm every day and the keepers there give great talks at the same time.
View this post on Instagram
9. Tunnel Terrace Walk
The Tunnel Terrace Walk is a fantastic little gem located near the Goldsborough Camping Area a short 15-minute drive from Hokitika. As you may have guessed, its heritage dates back to the gold rush era which can be seen in its single file tunnels at the start and end of the walk. In between, there is some beautiful beech forest to appreciate, rich in flora, fauna and birdlife. There is also the chance to see glowworms here too if you happen to visit after sundown.
View this post on Instagram
10. West Coast Wilderness Trail
If you're an avid cyclist then you may already know about the West Coast Wilderness Trail. For those who don't, it's one of the most highly-rated trails in the country which starts in the town of Ross, comes up through Hokitika, heads east through the mountains before turning north towards Greymouth. The whole trail is 132 km in total and covers a diverse landscape of stunning backdrops. A lot of people complete it over four days so they have ample time to enjoy the highlights along the way.
View this post on Instagram
11. West Coast Treetop Walk
A stone's throw away from Lake Mahinapua you'll find a great attraction in the West Coast Treetop Walk. Here, you'll enjoy the views of the birds with the canopy walk that's been carefully constructed across the ancient Kamahi and Rimu trees. The walkway is 450 metres in total and reaches heights of 20 metres giving you fantastic panoramic views of all around. There's also a lovely al fresco cafe too giving you a nice place to enjoy a refreshment or two.
View this post on Instagram
12. Wilderness Gallery
If you've any interest in art then you simply have to stop by the Wilderness Gallery in the middle of the township. It's a gallery that features the award-winning photography of Juergen Schacke, a specialist in capturing the exquisite landscapes of the region and the country as a whole. As well as his photography, the gallery also showcases other art and crafts from local artists that you can pick up as souvenirs to bring home. Juergen himself is often at the gallery too and loves talking to visitors about the works inside.
View this post on Instagram
Heaps of things to do in Hokitika
As you can see there are heaps of great things to do in Hokitika as part of your epic road trip along the West Coast. Be sure to take the time to see as many of these things as you can to get the most out of this cool little town.
With Greymouth and the Punakaiki Pancake Rocks just 40 minutes drive north of Hokitika, it's a great place to spend a few days before you head off to explore the glaciers down in Franz Josef or Fox Village or head across Arthur's Pass to Christchurch on the east coast.
Updated: 1 February 2022
Related Posts
Book a vehicle for this trip
We recommend: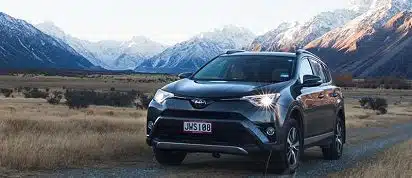 Intermediate 4×4
Toyota Rav 4
Seats

5 seats

Large Bags

3

Small Bags

4

Transmission

Auto trans