Updated: 17 March 2021
Looking for ideas for things to do in Oamaru? You've come to the right place.
If you're travelling in New Zealand's South Island going from Christchurch to Dunedin (or the other way around) you'll find a great town on the coast called Oamaru. It's an awesome place to visit with some fantastic attractions and activities. We thought we'd share our favourite things to do in Oamaru to encourage you to make a stop there!
1. Bushy Beach
Bushy Beach is one of the more unique beaches in New Zealand for a number of reasons. One reason is that it is one of the few beaches that is rich in natural coastal vegetation (hence the name). Another, which is one that really draws the crowds, is that it happens to be a breeding ground for the hoiho (yellow-eyed penguin). There's an accessible viewing hide where you can see them with your best chances being in the afternoon when the adults return to feed their young.  Oamaru is actually a penguin hotspot (see #4 below) but Bushy Beach is the place to go if you are looking for a free place to see the penguins in Oamaru. If you're lucky, you might also see some NZ fur seals and sea lions that occasionally drop by too.
View this post on Instagram
2. Forrester Gallery
The Forrester Gallery is situated in one of the most impressive buildings in the country. A 19th Century neo-classical heritage building that is considered one of the most iconic of its kind. The collection inside, featuring an array of significant local works is great to see as well. They also have a fascinating programme of visiting exhibitions which gives the public something new to appreciate for returning visits.
View this post on Instagram
3. Grainstore Gallery
One of the coolest shops in Oamaru has to be the Grainstore Gallery, in the heart of Oamaru's Victorian Precinct. It has an incredible mix of art, books, antiques, framed paintings, sculptures – just about anything you can think of. Its vast collection is housed in an old Victorian grain store and is a great hub for the artistically minded. It's also frequently used as a venue for travelling musicians which is great given how unique the setting is.
View this post on Instagram
4. Oamaru Blue Penguin Colony
The yellow-eyed penguins at Bushy Beach aren't the only penguins to see in Oamaru. The award-winning Oamaru Blue Penguin Colony offers its own great experience to see Blue Penguins, which are known as the smallest penguins in the world. This fantastic conservation attraction has a magnificent grandstand that faces their nesting boxes placed before the rockface before them. From there you'll be able to see the penguins waddle ashore which is nothing short of magical. Standing at only 30cm tall, the Blue Penguins are both adorable and charming and are something you won't want to miss. The Blue Penguin Colony is the most popular attraction in Oamaru and worth the drive alone.
View this post on Instagram
5. Oamaru Public Gardens
A great way to start your day in Oamaru is to enjoy a pleasant stroll through the Oamaru Public Gardens. The Oamaru Public Gardens were opened in 1876 making them one of the oldest in the country. They are also classified as a 'Garden of Significance' and have been a place for people to come and relax and find inspiration. It has a number of different types of gardens like the Rose Garden, the Chinese Garden, the Fernery and the Display House. It also has the impressive Craig Fountain near its entrance which is made from Italian marble!
View this post on Instagram
6. Oamaru's Victorian Precinct
We've already briefly mentioned Oamaru's Victorian Precinct as the place where you'll find the Grainstore Gallery but it's also a great area to explore as a whole. It's New Zealand's most complete collection of Victorian Era buildings, most of which were built from stone from the local quarry. They were a mixture of commercial buildings and warehouses back in their time but now host all sorts of shops, galleries, museums and restaurants. The Oamaru Victorian Precinct is also where the annual Victorian Fete is held which is an awesome Victorian Heritage celebration.
View this post on Instagram
7. Steampunk HQ
For all the fans of popular culture out there, you'll be intrigued to learn that Oamaru has its own museum dedicated to the genre of steampunk. On the face of it, Oamaru may seem like an odd place to find a museum dedicated to steampunk but in the middle of the Victorian Precinct, it makes perfect sense. Visitors have described their visits as "stepping into an HG Wells novel" and it's certainly one that gets the imagination racing. You'll see tributes and creations in the style of all your favourite works of steampunk fiction like Mad Max, Waterworld, Mortal Engines etc. Funky and fun!
View this post on Instagram
8. Totara Estate
Totara Estate is another place of historical significance in Oamaru that is credited as being the birthplace of the frozen meat industry. It was here that they revolutionised the use of steam-powered freezing technology that allowed meat to be exported to the UK and around the world. The Estate went through many changes over the years but has been wonderfully restored so visitors can experience the way it once was. From the stables to the granary, cookhouse and slaughterhouse – there are plenty of things to see and lots of farm activities to participate in too.
View this post on Instagram
9. Whitestone Cheese Factory Tour
Eating great cheese is one of the top joys in life and Oamaru has some of the best in the land. As a family business that has been operating for over 30 years, Whitestone Cheese is one of Oamaru's great local success stories. Extremely proud of what they do, they've opened their factory to the public running guided tours, Monday – Friday. It will give you a chance to see how cheese is made and learn what makes their cheese so special. For a little bit extra, you can add a wine pairing to the tasting too which is very much worth it!
View this post on Instagram
10. Whitestone City
Last, but by no means least, we bring you the No.1 thing to do in Oamaru (according to TripAdvisor) which is to visit Whitestone City. Whitestone City brings the past to the present as an attraction that tells the town's story through a series of detailed facades. It's technically a museum but is so imaginative, interactive and engaging you'll feel like you've travelled in time. During your visit, you'll get to do things like sit in an old school room, dress up in period clothing for the parlours and ride a penny farthing merry go round. That's just the start of it too in a place that gives you the best vintage fun you can find.
View this post on Instagram
Some awesome things to do in Oamaru
As you can see there are some fantastic things to do in Oamaru as a great place to spend a day or two during your road trip around the country. We hope you've enjoyed the read and make the most of your next trip there.
Frequently Asked Questions
Where is Oamaru located?
As we've already mentioned, Oamaru is located on the drive between Dunedin and Christchurch, however, to give you a bit more information, it is situated just half an hour north of the famous Moeraki Boulders which are another 'must do' on this drive from Dunedin to Christchurch (or vice versa). From Oamaru, head north a further hour and you will come to Timaru, another gem of a location on the east coast of the lower South Island. If you are planning a trip to the lower South Island, we have a car rental branch in Dunedin as well as car hire in Christchurch.
Is Oamaru worth visiting?
Absolutely! Hopefully our list of the 10 best attractions in Oamaru has convinced you to pay a visit the next time you are exploring the lower South Island. The east coast is full of hidden gems and Oamaru is definitely one of them with lots of things going on, both indoors and out.
How far is Oamaru from Dunedin?
According to Google Maps, the drive from Dunedin to Oamaru is 112.7 kms and it should take around an hour and a half with no traffic.  The drive will take you along the coastal road all the way, offering great views as you drive north up SH1.
Related Posts
Book a vehicle for this trip
We recommend: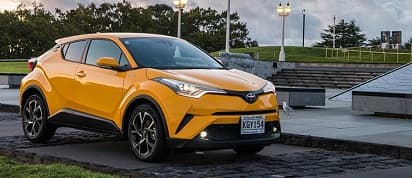 Zippy Auto
Toyota CHR
Seats

5 seats

Large Bags

1

Small Bags

1

Transmission

Auto trans