Invercargill is the southernmost city in New Zealand (and the world for that matter) and is a great place to include as part of a South Island road trip. It doesn't get the same attention as places like Queenstown and Wanaka but interest has been steadily increasing in this quaint destination.
We thought we'd share some of our favourite things to do in Invercargill to help you get the most out of your next visit.
1. Aurora Australis
One of the best things to do in Invercargill is to see the Aurora Australis, a sensational light phenomenon otherwise known as the Southern Lights. Invercargill, like many places in this part of the country, have incredibly clear skies with little or light pollution to speak of. This makes it a perfect place to see the effect of the solar winds hitting the Earth's magnetic field. Between April – September is usually the best time of year to see this breathtaking light show.
View this post on Instagram
2. Bill Richardson's Transport World
Bill Richardson's Transport World is one of the most highly rated attractions in the city and is a must for anyone remotely interested in automobiles. It is one of the largest private collections of vehicles found anywhere in the world with over 300+ vehicles on display. During a visit, you can expect to see Kombis, Model Ts, Vintage V8s and more. There's also a great LEGO room for the kids to play in and a Wearable Arts exhibition too.
View this post on Instagram
3. Classic Motorcycle Mecca
Keeping with the transport theme (and also owned by the good people at Transport World) – Classic Motorcycle Mecca is one of the best motorcycle museums in Australasia. With over 300 motorcycles on display over two floors, it's an incredible collection with just about every significant make and model of motorbike represented. AJS, BMW, Harley Davidson, Henderson, Indian and Rudge are all there plus many others that enthusiasts and average members of the public will love.
View this post on Instagram
4. Dig This
If you've always had a dream of operating some heavy machinery (a dream for more people than you might think) then you can fulfil those ambitions at Dig This. Dig This has a wide variety of heavy machines that visitors can "ride" during their visits. This includes Skid Steer Loaders, 5 Tonne Diggers, 15 Tonne Diggers, Bulldozers and more. You can even choose to crush a car too which is a great pursuit for stress-relief!
View this post on Instagram
5. Demolition World
One of the hidden gems of Invercargill is the uniquely named Demolition World. It's one of the quirkiest attractions in the country, home to an amazing collection of old buildings, artefacts and memorabilia. It's a junkyard essentially but is so much more than that with plenty of fascinating, wacky and bizarre discoveries to be made. There are also some resident chickens, geese and ducks to keep you company too.
View this post on Instagram
6. E Hayes and Sons – The World's Fastest Indian
Most Kiwis will know the famous story of Burt Munro whose life was immortalised in the great film 'The World's Fastest Indian'. He was a local motorcycle racer who famously set an under 1,000cc land speed record in 1967. He was 68 years old at the time and his record still stands to this day. His bike, a heavily modified Indian Scout known as the "Munro Special" can be seen on display at E Hayes and Sons, a local hardware store, along with about 50 other classic bikes too.
View this post on Instagram
7. Invercargill Public Art Gallery
We're lucky enough in New Zealand to have some fantastic local artists right throughout the country, featuring work in galleries all around the country. The Invercargill Public Art Gallery (previously known as the Anderson Park Art Gallery) is an excellent example of this that has a comprehensive collection of important visual art. It's also housed in the exquisite Anderson House, a homestead that has been one of the most impressive residences since the 1920s.
View this post on Instagram
8. Invercargill Water Tower
Invercargill is also blessed with some iconic landmarks which includes the Invercargill Water Tower. Constructed before the turn of the 20th Century, the Water Tower was built to supply the city with high-pressure water. It's a great example of Victorian architecture at its best and a fascinating place to stop by to get a taste of history. It also looks great in a holiday selfie or two as well!
View this post on Instagram
9. Queens Park
If you're looking for a lovely scenic spot to take a stroll then Queens Park, in the heart of the city, is a great place to head to. Covering 81 hectares, the park has a number of recreational features, facilities and green spaces to enjoy. This includes botanical gardens, playgrounds, an animal reserve, an aviary and some great statues and sculptures too. An easy way to spend a few hours in a pleasant and relaxed way.
View this post on Instagram
10. Oreti Beach
Despite being in a naturally colder part of the city, Invercargill still boasts some magnificent beaches within its borders. Oreti Beach is definitely one of those and is a long stretch of beach characterised by hard-packed sand that you can actually drive on. It's a great one for just about any beach-activity you can imagine. Swimming, surfing, windsurfing, walking, kayaking, beach cricket, sand castling and more. Also known for being a great spot to capture an amazing sunset.
View this post on Instagram
11. Waipapa Point Lighthouse
One of the most beautiful spots in the region can be found at the Waipapa Point Lighthouse – a lovely sight to see which has been standing on the coast since 1884. It's a lighthouse that's steeped in history as one of the last wooden lighthouses to have been built in the country. The beach that it sits before is also known as a place where sea lions regularly gather which is a fantastic wildlife spotting opportunity.
View this post on Instagram
Some fantastic things to do in Invercargill
With all these great things to do, there's plenty of reasons to include Invercargill in your next South Island road trip. Not only will you be able to tell your friends you've visited the southernmost city in the world but you'll have a memorable time as well.
Related Posts
Book a vehicle for this trip
We recommend: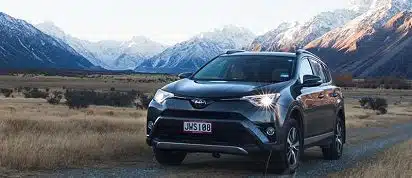 Intermediate 4×4
Toyota Rav 4
Seats

5 seats

Large Bags

3

Small Bags

4

Transmission

Auto trans