You will often find us writing about the best places to visit in New Zealand. It's our job to keep you up to date with all the hot spots that you need to check out on your trip to New Zealand.
However, we're also about the adventure. We're not called GO Explore for no reason.
As well as giving you all the tips on New Zealand's hottest spots, we also want to let you in on a few little secrets. From the top places you have never heard of to some of New Zealand's most underrated destinations, we try to keep you on your toes and make sure you have an experience like no other when you come to NZ.
So, here are seven of the most underrated places to visit in New Zealand. Add 'em to your list this summer!
1.      Tiritiri Matangi Island – Auckland

Tiritiri Matangi Island is a wildlife sanctuary and one of New Zealand's most important and exciting conservation projects. It is located 30km north east of central Auckland and just 4km from the end of the Whangaparaoa Peninsula.
A hundred and twenty years of farming had seen this 220-hectare island stripped of 94% of its native bush but between 1984 and 1994, volunteers planted between 250,000 and 300,000 trees. The Island is now 60% forested with the remaining 40% left as grassland for species preferring open habitat.
You can take a ferry ride to Tiritiri Matangi any day of the week from downtown Auckland or if you live north of the city, you can hop on at Gulf Harbour on the Whangaparaoa Peninsula.  On the island, you will discover rare species like the flightless takahe as well as the tuatara.
Find out more: http://www.tiritirimatangi.org.nz/
2.      Golden Bay – Abel Tasman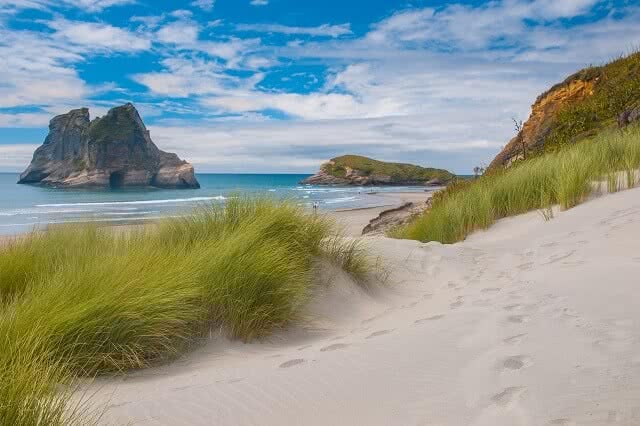 Located in close proximity to the Abel Tasman National Park, Golden Bay is a road less travelled. For those who do take the road, you will not be disappointed. Head over the famous Takaka Hill and you will be rewarded with golden beaches and the perfect places to spend a few days in the summer months.
The town itself is also a pretty cool place to explore with some unique shops and local cinemas. Golden Bay is protected by the country's longest sand spit, Farewell Spit so the waters are calm and perfect for families. There are lots of great day trips you can take from your base in Golden Bay including a trip to Te Wakoropupu Springs where you will find some of New Zealand's clearest waters.
Find out more: https://www.goldenbaynz.co.nz/
3.      Kapiti Island – Wellington

Another of New Zealand's underrated islands, Kapiti Island is located off the west coast of the lower North Island and is one of New Zealand's oldest and most important nature reserves. It's also one of the most accessible. Like Tiritiri Matangi, Kapiti Island is predator-free which makes it the perfect home to a number of New Zealand's rarest native animals including the short-tailed bat.
Visiting the island is really simple although you do need to be part of an approved tour group so you can't just make your own way there. There are only a small number of visitors allowed each day and it is possible to camp overnight where, if you are lucky, you will get the chance to see the kiwi bird in its natural habitat.
Find out more: https://www.kapitiisland.com/
4.      The Catlins – Dunedin

This is definitely one of the most underrated places in New Zealand and a road that is most definitely less travelled. Located between Dunedin and Invercargill, the Catlins is a stunning part of New Zealand. It is a major highlight of the wonderful drive on the Southern Scenic Route and there are tons of hidden gems throughout the area from hidden lakes and stunning waterfalls to petrified forests!
Summer is the perfect time of year to take a road trip down here where you will capture vivid sunsets and enjoy the long twilight evenings. The stargazing opportunities down here are also pretty amazing as there is very little light pollution and if you are super-lucky, you may get to see the Aurora Borealis (the Southern Lights).
Find out more: https://www.catlins.org.nz/
If you are planning a trip to this part of the world, make sure you check out the latest deals on car rental in Dunedin and find out why we're one of New Zealand's favourite rental car companies.
5.      Whakatane – Bay of Plenty

Located in the very beautiful eastern Bay of Plenty is the beautiful town of Whakatane. Whilst many people touring New Zealand take the inland route south via Rotorua and Taupo, those who venture out to the east coast will be rewarded with some of the most unspoilt coastline as well as some absolute gems along the way.
Whakatane is often known as the Gateway to White Island – the active volcanic island that sits just 50kms offshore from Whakatane. This is an amazing place to visit and Whakatane is a great place to base yourself for a few days to allow yourself plenty of time to cram everything in.
As well as a trip to White Island, one of New Zealand's best beaches can also be found in and around Whakatane – Ohope Beach. With 11kms of stunning white sand, this is one of the country's most loved beaches. The warm waters are perfect for families and make this a popular spot for locals.
Find out more: https://www.whakatane.com/
6.      Marlborough Sounds – Marlborough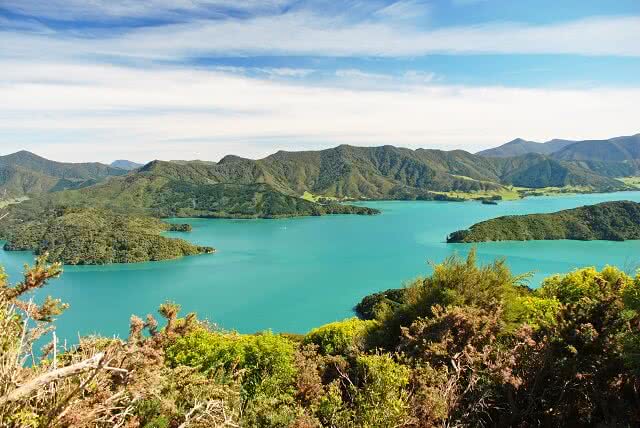 The Marlborough Sounds may be well-known and lots of people travel through the Sounds every year, however not enough people choose to stop off here. The Marlborough Sounds are located at the tip of the South Island and if you take the Interislander ferry from Wellington to Picton or vice versa, you will travel through the Sounds.
Sadly, not enough people stop off here though as it is truly one of New Zealand's most underrated destinations. The Sounds are a collection of ancient sunken river valleys that filled with the waters of the Pacific Ocean. Forested hills rise steeply all around and the sheltered inlets and coves make the perfect home for some of New Zealand's amazing marine life.
One of our favourite Sounds is Queen Charlotte Sounds where you can explore the amazing Queen Charlotte Track on foot or by bike.
Find out more: http://www.qctrack.co.nz/
7.      Akaroa – Christchurch

Last but not least on our list is the beautiful town of Akaroa. Located around 75kms from Christchurch on the Banks Peninsula, Akaroa is a historic French and British settlement nestled in the heart of an ancient volcano. The town itself is quirky and quaint and still retains much of its French heritage and history. The colonial architecture is stunning and you can explore the galleries, craft stores and cafes in the town.
For many, Akaroa is not on their route in or out of Christchurch, however, we urge you to take the trip over – you won't be disappointed! Check out our Christchurch car rental options to get yourself across to Akaroa.
Find out more: https://akaroa.com/
So there you have it – seven of New Zealand's most underrated destinations to add to your list of places to visit this year!
Have we missed anywhere?
Drop us a note in the comments below or on our Facebook page and we will make sure we keep our list up to date!