Looking for ideas for beaches to visit in New Zealand? You've come to the right place. We are spoilt here in New Zealand. We have amazing beaches up and down the country, from Cape Reinga to Bluff and everywhere in between. With around 15,000km of coastline, it's perhaps no surprise that New Zealand has an abundance of amazing beaches – the difficult task is knowing which are the best beaches in New Zealand.
Determining the best beach in New Zealand is not that straightforward.
For some, the best thing about going to the beach is the surf. For others, it's safe, calm swimming waters. For us, we love the soft white sand between our toes whereas others prefer a nice firm beach for some good old beach cricket.
Not all beaches are created equal and each brings its own merits to the table. When compiling a list of the top ten beaches in New Zealand, we completely get that we are going to upset some people who think their favourite should be on the list and we're sorry in advance – we know how passionate Kiwis are about their favourite beaches and we'd love to hear about your personal favourites in the comments below – it's always good to start a conversation and just because we have a list of the top ten beaches in New Zealand, it doesn't mean we can't talk about everyone's favourites in the comments.
With this in mind and understanding that everyone is looking for something different from their favourite beach, we decided to try and cover all the bases with our latest top 10 beaches in New Zealand and hope you enjoy our final selection to explore this summer.
1. Ninety Mile Beach, Northland
Perhaps the most iconic beach in New Zealand has to be Ninety Mile Beach. The beach is just as epic as it sounds with its picturesque and seemingly endless coast. Interestingly, the beach is technically 88 km long and has plenty to offer. This includes swimming, surfing, kite surfing, fishing and more. One of the most popular things to do, especially for the kids, is to bodyboard down the impressive sand dunes. Great fun!
View this post on Instagram
2. Matapouri Bay, Northland
Head north from Paihia and the Bay of Islands and you will come to the stunningly beautiful Matapouri Bay. This stretch of white sand is one of our favourites and is popular with families thanks to the safe swimming and opportunities to explore. The Mermaid Pools are a great place for a family adventure at low tide and there is a great walkway to Whale Bay which offers some sumptuous views.
View this post on Instagram
3. Muriwai Beach, Auckland
Some of the most stunning beaches in New Zealand are the ones found on the West Coast of the North Island not far from Auckland. The likes of Piha, Bethells Beach, Anawhata etc are known for their rich black sands and untamed natural qualities. The one we've selected for our list, however, is Muriwai in part because it boasts something else unique altogether – a Gannet Colony. They've built some great viewing platforms to see these amazing seabirds and if you happen to go at sunset you'll find it a completely magical experience.
View this post on Instagram
4. Hot Water Beach, Coromandel Peninsula
One of the most unique beach experiences you can have in New Zealand is the one at Hot Water Beach on the Eastern side of the Coromandel Peninsula. Hot Water Beach is known throughout New Zealand for its piping hot waters that can be accessed at low tide with a bucket and/or spade. The waters come from an underground geothermal river and can reach temperatures of 64°C. It's not often you get to go to a free hot pool when you go to the beach but here you can!
View this post on Instagram
5. Oriental Bay Beach, Wellington
One of our cities that enjoy a beautiful beach in the heart of the city is Wellington. Oriental Bay beach is a great place for swimming, a picnic, walking or cycling and is Wellington's most popular beach. With the city skyline in the backdrop, this is a great place to head for the day if you want to get out of the city but don't want to go too far. Described as one of the jewels of Wellington, there are plenty of nearby cafes to wander to after your beach adventures to enjoy a great coffee or an ice cream treat!
View this post on Instagram
6. Kaiteriteri Beach, Nelson/Tasman
A list of the top 10 beaches in New Zealand wouldn't be right without an entry for the Nelson/Tasman region. With so many to choose from, we decided to go for Kaiteriteri Beach just south of the Abel Tasman National Park. This golden sandy beach is a great place to spend the day and the kids will love the crystal clear water that's extremely safe for swimming. Hire a kayak and get out and explore the water or simply sit back and enjoy the beautiful views.
View this post on Instagram
7. St Clair Beach, Otago
Yet another city with a great beach on its doorstep is Dunedin. St Clair beach is the most popular beach in the area and is another one that is popular with families. There is surf here which is great fun for the kids as well as an awesome new playground. Whilst you're out swimming in the refreshing waters, consider this; there's nothing else between you and the Antarctic!
View this post on Instagram
8. Corsair Bay, Lyttelton Harbour
There are some pretty awesome beaches in Canterbury and around Christchurch, however, one of our favourites in the region can be found close by in Lyttelton. Hang a right after the Lyttelton Tunnel to reach the stunning Corsair Bay beach with views across the Banks Peninsula. This white sandy beach also has a large grassy area that is perfect for picnicking and hanging out during the long, warm summer months and the calm waters are perfect for swimming. New Zealand beaches will often include a floating pontoon and Corsair Bay is no different so you can paddle out to the floating pontoon or just dive straight in from the jetty.
View this post on Instagram
9. Hokitika Beach, Hokitika
A new entry to our updated list of the best beaches in New Zealand is a Kiwi favourite – Hokitika. Located on the West Coast of the South Island, Hokitika is an often overlooked destination that people whizz past on their journey up or down the West Coast, however, those that do stop off are treated to a charming beach town with plenty of things to do. The beach at Hokitika is renowned for the unusually large amount of driftwood that washes up on the beach and there is an iconic sign created from the driftwood on the beach. As well as being a beautiful and rugged beach, it's also a cracking place to watch the sunset.
View this post on Instagram
10. Rabbit Island, Nelson
Last but not least, another entry for Nelson! Located a short 15-minute drive from Richmond at the head of Tasman Bay, you will find 8 kms of safe sandy beach to explore here. There are also a number of tracks to walk on the 'island' and it has the area's largest picnic spot. You will also find some good mountain biking trails if you're a bit of a cycling enthusiast too.
View this post on Instagram
Our top 10 beaches in NZ that can't be missed!
So there you have it. Our picks for the best 10 beaches in NZ that can't be missed this summer. It was a very tough list to put together and we had to omit some incredible spots but all-in-all, we're pretty happy with our selection.
We hope you've enjoyed the read yourselves and hope to see you here and on our shores soon!
Updated: 4 February 2022
Related Posts
Book a vehicle for this trip
We recommend: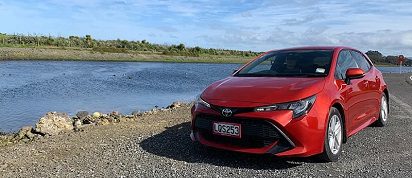 Compact Auto
Toyota Corolla
Seats

5 seats

Large Bags

2

Small Bags

1

Transmission

Auto trans