New Zealand has some of the most naturally wild and stunning natural landscapes in the world. There's no finer way of enjoying the unrivalled, jaw-dropping views than from one of the lovingly restored steam trains in New Zealand.
There's a wide variety of steam train excursions to choose from so we thought we'd share our favourites so you can start planning a ride on a steam train in NZ soon!
1. Marlborough Flyer
In 2018, the Marlborough Flyer was voted in the Top 10 Best Train Journeys in Australasia by The Telegraph – an award that's hard to argue with. Travelling from Picton to Blenheim, the Marlborough Flyer offers a wonderful heritage steam train excursion for all. Aboard a historic WWI locomotive (built in 1915), you'll journey through some idyllic sights including the Wairau River, Para Wetlands and the beautiful vineyards of Marlborough. The 1 hour ride glides by pleasantly and if you want, you can add a wine tasting package hosted at the train station on your arrival.
View this post on Instagram
2. Glenbrook Vintage Railway
For a journey back through time in the rural Franklin countryside look no further than the Glenbrook Vintage Railway. They have a number of different steam trains offering a range of different rides throughout the year. One of the most popular rides features the Parlour Carriage, a first-class experience where you'll get to travel in the luxurious lounge car. Not only does this have premium cakes, savouries and refreshments but it also has a covered observation platform where you can watch the world go by. If you've got kids, however, you might just have to take them on the Thomas the Tank Engine ride!
View this post on Instagram
3. Taieri Gorge Railway
One of the most iconic steam train excursions in New Zealand has to be the Taieri Gorge Railway which runs out of Dunedin. With its route along the Taieri River, the train passes by some remarkable natural landscapes and extraordinary historical sites. This includes ten tunnels (many of which were hand-carved) and bridges including the famous Wingatui Viaduct – the largest wrought iron structure in the Southern Hemisphere. With a lovely on-board cafe and a number of open-air platforms to enjoy, this 4.5 hour train ride is a beauty.
View this post on Instagram
4. Plains Vintage Railway
The Plains Vintage Railway near Ashburton is home to several historically important restored steam trains including one rescued from a river and restored almost single-handedly by one man. It also has its own museum and a Pioneer Village, complete with the original Chertsey Railway Station. The rides are short and sweet, running every 30 minutes on specific dates of the year so it pays to check the schedule before visiting. The wider attractions previously mentioned make it a great day out.
View this post on Instagram
5. Silver Stream Railway
Our capital city has its own steam train experience with the Silver Stream Railway. The Silver Stream Railway runs on the 1st and 3rd Sundays of most months across a 1.5km track that takes around 15 minutes. Although the rides are short, they have a great range of locomotives in operation including the Barclay 1749 – the smallest NZ steam locomotive still in existence. As well as the trains, there are some nice picnic facilities there as well as a shop selling refreshments and souvenirs.
View this post on Instagram
6. Gisborne City Vintage Railway
The sunny city of Gisborne on the East Coast of New Zealand is a glorious place to take a ride on a very special steam locomotive. The WA165 locomotive was built in 1897 and used on the route between Gisborne and Motuhora. These days the WA165 comes out during select days of the year (and some special events) on the Muriwai route. It's a 2 hour journey that takes out into the lovely countryside of Poverty Bay to Muriwai – a lovely spot to bring and enjoy a picnic.
View this post on Instagram
7. Bay of Islands Vintage Railway
At the very top of the North Island lies some of the most beautiful landscapes in the country as well as a steam train experience that is just as special. The Bay of Islands Vintage Railway has been operating for years on the weekends and on school and public holidays. They have some great trains including 'Gabriel' the steam engine that runs down 4.5km of the main street in Kawakawa. While you're there you can also enjoy some nice refreshments at their beautiful station cafe.
View this post on Instagram
Some fantastic steam train excursions in New Zealand
As you can see, there are some great places to ride a steam train in New Zealand. As well as being a great time capsule experience, you'll find it a lovely and relaxing way to appreciate our wonderful scenery and scenic delights.
Related Posts
Book a vehicle for this trip
We recommend: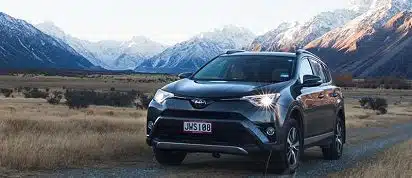 Intermediate 4×4
Toyota Rav 4
Seats

5 seats

Large Bags

3

Small Bags

4

Transmission

Auto trans