Stewart Island is one of New Zealand's hidden gems and for those who make the trip to the deep, deep south, you will be rewarded with an experience quite unlike any other here in New Zealand.
Whilst New Zealand is often known for its two islands, North and South, Stewart Island is our third largest and one that you need to add to your bucket list.
Stewart Island/Rakiura is the last stop-off point before Antarctica and is a truly stunning place to visit. With over 1,746 km² of largely untamed wilderness, there are plenty of things to do on Stewart Island and we've highlighted 13 of the best!
1. Ulva Island
Ironically, our first recommendation for Stewart Island is Ulva Island, a small pest-free conservation island in the Paterson Inlet. It's a great place to visit for nature lovers as it's a natural bird sanctuary that's home to many species of native birds including weka, kaka, kereru and kiwi. The native rainforest surrounding is vibrant and lush and it's easily accessible by ferry from Golden Bay.
View this post on Instagram
2. Rakiura Track
Stewart Island is also a great destination for serious trampers because of the Rakiura Track, one of the 10 Great Walks of New Zealand. Based in the Rakiura National Park, it is a 32km walking track that typically takes about 3 days to complete. Not only do you get the natural wonders of the Island but you'll see remnants of Maori Pa and the Sawmill enterprise that once flourished. A great unique experience that requires booking in advance.
View this post on Instagram
3. Bathing Beach
As well as walking tracks, Stewart Island also has some fantastic beaches including the Bathing Beach. A short walk from the settlement of Oban, it's a great place to go for a dip because of its sheltered surroundings. At low tide you can also explore the Mill Creek Estuary which has remnants of the old timber operations too. A fantastic option, especially if you're travelling with kids.
View this post on Instagram
4. Fish and Chips
Nothing goes better with the beach in New Zealand than fish and chips which is definitely something to add to your list. A great option for this (which made our Top 10 Fish and Chips in NZ list) is the Kai Kart. An easy place to stop before heading to Bathing Beach, you'll be able to get a big portion of fish and chips served the Kiwi way. Nothing beats it!
View this post on Instagram
5. Rakiura Museum
We've got a lot of great local museums in New Zealand and another to add to the list is the Rakiura Museum. It's a wonderfully homely museum that's packed with information and artefacts regarding the history of Stewart Island. Run by the locals, it's a great intimate portrayal of all there is to know and will give added depth and appreciation to your visit there.
View this post on Instagram
Book a vehicle for this trip
We recommend: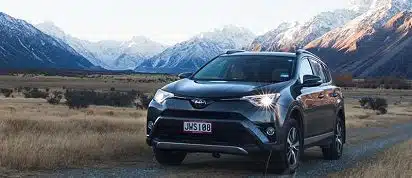 Intermediate 4×4
Toyota Rav 4
Seats

5 seats

Large Bags

3

Small Bags

4

Transmission

Auto trans
6. Bunkhouse Theatre
Another locally run establishment that offers a uniquely local experience is the legendary Bunkhouse Theatre. For the cinephiles, they show a great range of largely independent films during the week offering an authentic boutique experience. They've also recently been showing the locally made 'A Local's Tail' about Stewart Island itself. A fantastic thing to make time for if you can.
View this post on Instagram
7. Aurora Australis and Stargazing
The Aurora Australis, also known as the Southern Lights, are caused by the solar winds across the magnetosphere. The result is a spectacular light show of pink and green wavy hues across the evening skies. Stewart Island actually gets its name from this as Rakiura means 'glowing skies'. The best chance to see them is at midnight between March – September. Even if you don't, you've got amazingly clear skies with millions of stars to gaze up at and capture with photos.
View this post on Instagram
8. Photography Tour
Speaking of photos, a great thing to do on Stewart Island is to go on a photography tour. We've already talked at length about the great sceneries you can capture and by going on a tour with locals you'll be taken off the beaten track and straight to all the best spots. The tours offered by the good people at Ruggedy Range are very highly rated and it's a great way to socialise and meet fellow travellers as well.
View this post on Instagram
9. Electric Bike Hire
On the theme of tours you can take yourself on a tour around the Island by hiring a state-of-the-art electric bike. Bikes are great around Stewart Island as a good compromise between car and foot to get from A-to-B. There are far fewer cars on the roads there and the electric motors make things even easier. Stewart Island Electric Bikes also have a few recommended routes you can follow too to get you started.
View this post on Instagram
10. Fishing Charter
Another recreational activity that draws a lot of visitors to the Island is fishing. The waters around Stewart Island are abundant with fish and there is no shortage of local operators who'll be willing to supply gear and show you the way. You can even join commercial fishing vessels using hand lines to catch the likes of blue cod and more.
View this post on Instagram
11. Charter flight
If you're interested in chartering a boat you might also be interested in chartering a plane (or helicopter) to take the skies above Stewart Island. In doing so you'll have the best seat in the house and be able to enjoy the view of the Island unlike any other. Stewart Island Flights do an awesome job with this and even have an option for a beach landing which is simply superb.
View this post on Instagram
12. Shark Experience
For something completely out there, you can't beat a shark cage encounter like the one offered by the crew at Shark Experience. The Foveaux Straight is one of the top spots for Great White Sharks in New Zealand and seeing them up close and personal is breathtaking. Not for the faint-hearted (but extremely safe) the Shark Experience is also a GO Play partner which means our customers get a 10% discount!
View this post on Instagram
13. Rakiura Jade
Last but not least, a more mild-mannered but no less profound activity can be experienced with Rakiura Jade. Rakiura Jade offers full day carving workshops where you'll learn get to make your own trinket out of New Zealand Greenstone. Led by Dave Goodin (whose resume includes work on the Lord of the Rings films) it's a fantastic interactive experience that will stay long in the memory.
View this post on Instagram
Some great things to do on Stewart Island
We hope you've enjoyed our little Stewart Island guide which (hopefully) goes to show just how much the Island offers. It's becoming an increasingly popular destination so make sure you get there soon!
Stewart Island FAQs
It's great to see so many people visiting this page to learn more about the amazing things to do on Stewart Island but as well as wanting to know about the activities and attractions on the islands, it turns out that loads of people want to know more about the Island itself so here is a quick FAQs guide to Stewart Island
How big is Stewart Island?
Stewart Island is the third-largest island of New Zealand and has a total land area of 1,746 km². The island is approximately 70km long and 40km wide (at its widest point). Stewart Island has a coastline that stretches for 164km and the highest point on the island is 980 metres.
What is the population of Stewart Island?
In the latest census (2018), the permanent population of Stewart Island was 408, up by only six people from the previous census in 2006. People have lived on Stewart Island since the 13th Century and the majority of the inhabitants today live around the central township of Oban. The population of the island is swelled by tourists, especially during the summer months and attracts conservationists, eco-tourists and those wanting to experience one of the most remote outposts in the world.
Can you walk around Stewart Island?
With a coastline of 164km, it is possible to walk around the circumference of Stewart Island, however, it is a challenge for experienced trampers only. The North West Circuit is a challenging 125km circuit of the island and will take around 10 days to complete. The Southern Circuit, which can be added to the North West Circuit to complete the full island experience is another challenging walk that will take between 6-9 days. The terrain is rugged and the places to stay along the route are some of the most remote you will come across in New Zealand, however, for many trampers, this is a bucket-list item to tick off as so few people have completed the full circuit of the island.
Updated: 25 January 2022
Related Posts