Looking for a list of amazing things to do in Nelson? Look no further, you're in the right place.
At the top of the South Island, you'll find the charming port city of Nelson facing the picturesque Tasman Bay. It's a place that's fortunate to be at the doorstep of some stunning natural landscapes, offering visitors plenty of things to see and do, and home to our Nelson car rental branch.
Given its location, it's perhaps no surprise to find out that there are plenty of activities in Nelson no matter what you enjoy – from tramping to wine tasting, kayaking to relaxing on the beach. Deciding what to do when booking your trip to Nelson can be tricky – with so many attractions to choose from, knowing what you should squeeze into your trip can leave you feeling like you might miss out on something.
That's why we thought we'd share 11 of our favourite Nelson activities to give you a bit of inspiration and motivation when planning your next trip.
1. Hike in a National Park
The Nelson region has not one, not two but three national parks within its boundaries making it a great place to stretch the legs and take in some incredible sights. The three National Parks are the Abel Tasman National Park, Kahurangi National Park and the Nelson Lakes National Park and each offers something a little bit different. From the beautiful coastal views of the Abel Tasman National Park to the high plateaux of the Kahurangi National Park and the crystal clear waters of the Nelson Lakes National Park –  you've got a diverse range of vistas (and Instagrams) covered.
View this post on Instagram
2. Explore the trails on Mountain Bike
Another great way to appreciate the scenery of the region is to do so on a mountain bike. This will require a bit more effort on your part but the reward is well worth it which is why it attracts riders from far and wide. There are some fantastic trails in short distance of Nelson like Codgers Bike Park, Dun Mountain Trails and Marsden Valley. Like the national parks, they all have something unique to offer covering a wide range of distances and technical difficulties with something for everyone to enjoy.
View this post on Instagram
3. Kayak from bay to bay
As previously mentioned, Nelson has some of the most picturesque coastlines in the country. Sea kayaking is a great activity to do as a way of experiencing the waters up close. You can choose to do this yourself by hiring a sea kayak or by joining one of the great tours with an experienced guide like the kind offered by Wilsons Abel Tasman. They offer a range of different kayak tours for a range of abilities and different sights to see. The tours are extremely interactive and it's a great way of meeting fellow travellers and holidaymakers too.
GO Rentals customers get a 10% discount at Wilsons Abel Tasman with their GO Play Card
View this post on Instagram
4. Set sail for the day
Another on water activity that is arguably even more relaxing is sailing and Nelson is definitely the perfect place for it. Aided by the gentle breeze and calm waters the area is famous for, your sailing experience will be both quiet and peaceful – exactly how you want it to be. Abel Tasman Sailing Adventures does a great job as host and have three different sailing boats and a number of great tours to choose from. They even offer overnight/multi-day tours if you fancy giving yourself a real treat.
GO Rentals customers get a 5% discount at Abel Tasman Sailing Adventures using their GO Play Card.
View this post on Instagram
5. Make time for the museums
Whenever you visit a new place it's always good to learn a bit about its history to help enrich your own experience. Local museums are great for getting this kind of insight and Nelson has some real gems. One example is the Nelson Provincial Museum which captures the history of the region with its great collection and interactive displays. Another highly-rated museum is the World of WearableArt and Classic Car Museum. Although it might seem an unusual mix at first, they are examples of two popular interests in New Zealand, the passion for which is well represented here.
View this post on Instagram
6. Stroll the wonderful gardens
A lovely pastime of Nelson locals and visitors alike is to stroll the exquisite gardens of the city. We've talked a lot about the beauty of the natural scenery and the gardens showcase this wonderfully well. Queen's Gardens, which has been the pride and joy of the city since 1892, are a great place to start and reflect the Victorian era in which they were built. For something a little bit different, the Miyazu Garden is a Japanese garden that provides an escape to East Asia with some lovely paths to follow.
View this post on Instagram
7. Admire the view from the Centre of New Zealand
The Centre of New Zealand is a popular walk with an interesting history as a place that was used as a central point of origin for New Zealand in the 19th Century. Though it's technically not quite the centre of New Zealand, the walk to the summit of Botanic Hill offers great views of the city and the wider region. The walk can take anywhere from 20 – 60 minutes depending on your own levels of fitness and the pace you want to set. It's definitely worth the effort as many can attest. It often comes as a surprise to people to find that Nelson is located right in the middle of New Zealand and that's what makes this such a popular tourist attraction with locals and international visitors alike.
View this post on Instagram
8. See Nelson as it once was
Nelson is also a city where you can experience some of its early histories by visiting the Founders Heritage Park. The Founders Heritage Park is home to a variety of nostalgic buildings and shops from yesteryear. There's a cathedral, fire station, artisan businesses and traders and even a train to ride. Often host to local events and festivals, a visit to Founders Heritage Park is a great way to spend a few hours, suitable for all members of the family.
View this post on Instagram
9. Have an animal encounter
For all the animal lovers out there, Nelson is a city that certainly won't disappoint, especially if you make your way to Natureland. Founded in 2013, Natureland is a facility that brings people and animals together through its conservation efforts. There's a wide variety of species that call Natureland home including primates, meerkats, porcupines, reptiles, farmyard animals and more. They also specialise in natives of the Nelson region like Kea and Tuatara. Needless to say, it's a great place for kids to learn with keeper talks hosted every day.
View this post on Instagram
10. Enjoy the subtle tastes of craft beer
Nelson has long ties to beer dating back 150 years when English and German settlers first came to the area and brought with them, the skill of brewing beer. That skill and knowledge has grown strong over the years and is now represented by a number of high-quality breweries. The increasing interest and popularity in craft beer has seen the scene flourish with 20+ breweries and outlets now established in the area. You can easily spend a day hopping from one to the next and there are even cycle trails you can follow to get from one to the next.
View this post on Instagram
11. Feel the thrill of skydiving
Last but not least, for the thrillseekers and adrenaline junkies amongst you, the ultimate rush can be had in Nelson by plucking up the courage to go skydiving. From 16,500 ft you'll be able to experience a 70-second freefall above some of the most spectacular scenery found anywhere in the world. It's the only skydiving experience in the country that gives you views of both the North and South Island. Surrounded by national parks, coastline and snow-capped mountains, it's as magical as it is epic.
GO Rentals customers get a 10% discount at Skydive Abel Tasman using their GO Play Card.
View this post on Instagram
11 of the best things to do in Nelson to add to your bucket list
As you can see, there are some awesome Nelson activities to add to your schedule of things to do when visiting. It's a great city with hospitable locals and amazing scenery so get yourself there soon!
Related Posts
Book a vehicle for this trip
We recommend: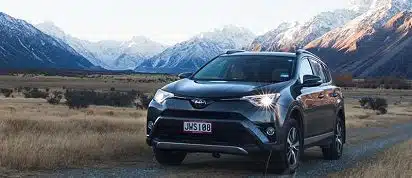 Intermediate 4×4
Toyota Rav 4
Seats

5 seats

Large Bags

3

Small Bags

4

Transmission

Auto trans