New Zealand's largest city is a great place to visit on holiday and while many of its most noted attractions are ones you'll experience during the day, there are also plenty of things to do, long after the sun sets on the city itself.
To prove the point, we thought we'd share our favourite things to do in Auckland at night that you can add to your bucket lists while you're here! Pick up a car from Auckland City, or if you've just flown in, pick up your car hire at Auckland Airport then make sure to check out some of these night-time activities.
1. Auckland Night Market
One thing you'll quickly learn when you're here is that New Zealanders love their food and there's no greater display of it than at the Auckland Night Markets. The Auckland Night Markets take place in a different Auckland suburb every night of the week. At each market, you'll find dozens of different food stalls with cuisines representing many of the diverse cultures that exist in the city. The aromas alone are intoxicating and the atmosphere is always great with hungry locals and visitors alike. With live musical performances in the background, it's a fantastic night out for all the senses.
View this post on Instagram
2. Auckland Stardome and Stargazing
Auckland (and New Zealand in general) has the virtue of having some of the clearest night skies in the world. The Auckland Stardome, located in the picturesque Cornwall Park, is a great place to visit to do a bit of stargazing. Their main telescope allows you to get up close and personal views of distant stars and planets. They also have a number of smaller telescopes set up outside for sights a little closer to home, like the Moon and Mars. There's a number of interesting exhibitions inside the Stardome itself and they regularly feature films, music and laser shows too.
View this post on Instagram
3. Boutique Cinema
As well as having a love for food (as mentioned earlier), New Zealanders have always had a love for the cinema and have been successful in our own filmmaking in recent years (thanks largely to Sir Peter Jackson). If you're a bit of a cinephile, then you'll be pleased to know that there are a number of refurbished boutique cinemas, showcasing an interesting mix of local and international films. A select few examples include The Academy Cinema (under the Auckland Central Library), The Lido Cinema (Epsom), The Bridgeway (Birkenhead) and The Vic Theatre (Devonport). During special events, the prestigious Civic Theatre also do film screenings which is an amazing experience in itself.
View this post on Instagram
4. Escape Rooms
From big rooms to small ones, an Escape Room experience is a fun and interactive way to spend a few hours of your evening. If you haven't come across Escape Rooms before, it basically involves getting locked in a room and doing your best to get out (following a series of clues) in an allotted time. If you're travelling with a group of friends it's a great thing to do, working together as a team to try and beat the challenge. There are a number of options in Auckland to choose from which all get great reviews probably because the activity itself is awesome fun!
View this post on Instagram
5. Auckland Harbour Dinner Cruise
Auckland is known as the 'City of Sails' because of its stunning harbour and the high number of boats that sail the waters. The Auckland Harbour looks especially captivating at night and there's no better way to experience it than on an actual sailboat. The good people at Explore Group offer a great Auckland Harbour Dinner Cruise, combining two great things (food and harbour views) together. You'll enjoy a lavish and delectable 3-course meal during your 2.5-hour cruise of the beautiful waters of the Hauraki Gulf enjoying views of the city skyline including the Auckland Harbour Bridge. On top of this, Explore Group are also a GO Play partner which means our customers get a 10% discount!
View this post on Instagram
6. Mini Golf
For a nice bit of casual fun, you can't go past mini golf. It's an activity that seems to have been around forever and is one that's a real crowd-pleaser. It's a popular activity in New Zealand, in part, because Kiwis love their golf with New Zealand having the second most number of golf courses per capita (behind Scotland). If you're in the city, Holey Moley on the Auckland Viaduct is a mini golf/bar with a full range of dishes and drinks available. If you're out towards Auckland Airport you can't go past the night golf at Treasure Island which has some great, eye-popping holes.
View this post on Instagram
7. Night Canyoning at Piha
For those with an adventurous spirit, the idea of night canyoning will be one that may be of interest. Canyoning is an activity that involves jumping and gliding down streams and waterfalls in mountain ranges in the wilderness. Piha, a coastal suburb located in Auckland's West Coast on the edge of the Waitakere Ranges, is the perfect place for this. AWOL Adventures do a number of day tours but also a version at night, taking the experience to the next level. You'll be kitted with a helmet, wetsuit and rigged up for the ride with a few snacks and refreshments provided too.
View this post on Instagram
8. Sunset Sea Kayaking
Another water activity that you can enjoy in the evening is sea kayaking. Providers like Auckland Sea Kayaks run sunset sea kayaking tours that take you from the shores of Auckland to Rangitoto Island, the largest volcano in the city. It's an absolutely magical experience and the knowledgable guides make it an interactive learning experience as well. This is followed by a trek to the summit and a Kiwi styled BBQ afterwards! Yum!
View this post on Instagram
9. Wynyard Quarter and Silo Park
We've already talked about the Auckland Night Markets but there are loads of other great places to eat and drink all over the city, many of which can be found in and around Wynyard Quarter. Wynyard Quarter is one of the newer areas of development in Auckland city which boasts plenty of trendy bars and restaurants. Within it, you'll also find an area called Silo Park which hosts a variety of events and exhibitions right throughout the year. There's a great vibe and atmosphere to the place and it's a lovely area to take a stroll and soak it all in.
View this post on Instagram
10. Commercial Bay
Having only just opened in June 2020, Commercial Bay is Auckland's newest and trendiest downtown spot. Nestled in the heart of Auckland's downtown hustle and bustle, there's no better place to visit when looking for exciting things to do when out and about in Auckland at night. The development is comprised of retail stores, boasting the best local and international fashion and lifestyle brands, as well dining options from a varied range of cuisines, spanning quick eats to gourmet foods. The long-awaited opening of the development has exceeded expectations, and the development is a must-visit for anyone who loves good food and a great atmosphere.
View this post on Instagram
11. Spookers
For the opposite to a relaxing experience, look no further than Spookers, a haunted attraction theme park that has garnered interest and attention from all over the world. Spookers have become specialists in scaring the living daylights out of their visitors and, going by their reviews, are very good at it. They typically have a number of different setups to choose from including a haunted house, cornfield, freaky forest and more. Most people don't go on holiday to be scared but this should be your one exception.
View this post on Instagram
11. Rainbows End Night Rides
If you're looking for your next big fix when it comes to thrills, the Rainbows End Night Rides is one to add to the list. New Zealand's most popular theme park opens its gates after-hours every Saturday of October to offer an entirely different experience for amusement park enthusiasts. It's one thing to take on the roller coaster and fear fall during the day, but only the bravest will be able to tackle these beloved amusement park rides by dark!
View this post on Instagram
12. Sky Tower Viewing
Last but not least, the one thing that never fails to impress, are the views to take in from the top of the Auckland Sky Tower. As the tallest freestanding structure in the Southern Hemisphere, you'll enjoy panoramic views of the bright city lights from one of its three observation decks. They also have three different dining options to choose from including the highly rated and swanky Sugar Club which is a great place to make a reservation if you're travelling with a significant other. It's the perfect place to go to really appreciate our wonderful city and is probably the most memorable experience you can have.
View this post on Instagram
Some great Auckland night activities to enjoy!
So there it is! Our favourite things to do in Auckland at night that will leave you with few regrets and plenty of cherished memories. We hope you enjoy your time here and if you're looking for recommendations during the day, check out our Complete Guide to Auckland too!
Related Posts
Book a vehicle for this trip
We recommend: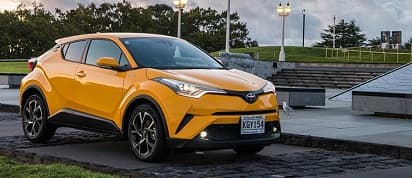 Zippy Auto
Toyota CHR
Seats

5 seats

Large Bags

1

Small Bags

1

Transmission

Auto trans