Summary: The top things to do in Rotorua at Night
The Pig & Whistle

Geothermal Pool

Rotorua Night Market

Redwoods Treewalk

Lake Rotorua Night Cruise

Night Luge

Maori Cultural Experience

Rotorua Sunset

Mount Ngongotaha Stargazing

Eat Street

Paddle Board through glow worms
What makes Rotorua so special at night?
Rotorua (pronounced row-tuh-roo-uh) is famous for its Geothermal and volcanic landscape, nature trails and adventurous activities which are great to explore all day. What makes Rotorua special at night is how they light up the landscapes to create a relaxing and beautiful atmosphere you can enjoy after dark. Unlike some nature-centric places, Rotorua does not shut down at night, there are still many adventures you can jump into.
Free with every car hire, our GO Play discount card for Rotorua and Bay of Plenty offers hundreds of discounts so you can explore every inch of this city.
So if chilling in hot pools under the stars or paddle boarding through glow worms sounds like your kind of evening experience, then this place is for you. Let's get GOing with the most awesome things to do in Rotorua at night.
---
11 Great Things To Do in Rotorua at Night (The full breakdown)
1. Go to Rotorua's Oldest Pub, The Pig and Whistle
It is an absolute must to visit the oldest pub in every place, right? Well, we think so and The Pig and Whistle will not disappoint. This 1940's pub serves a huge selection of New Zealand craft beers, ciders and wines to try, delicious food and live music from talented local musicians every weekend. Join them on Thursday evening for a quiz night and you will be in for a great night, we're sure.
2. Have a hot soak in a Geothermal Pool
Famous for its geothermal landscape, soaking in the natural hot pools has to be one of the best things to do in Rotorua at night. Imagine getting to relax your muscles in hot water as the sun sets and the stars come out. Life doesn't get much better than that, sign us up!
Polynesian spa
Think spa packages, a private pool, and hot springs overlooking a lake, A Polynesian Spa is exactly what you need after a busy day in Rotorua. You can even take the whole family to wind down after a day of adventure. This Polynesian Spa is a great place to take it easy in summer or winter.
Waikite Valley Thermal Pools
A short drive from Rotorua CBD, Waikite valley thermal pools are sourced by Te Manaroa spring, New Zealand's largest single source of 100% pure boiling geothermal water. The hot pool experience is 35-38 degrees celsius and is open until 8 pm so you can relax and soak into the evening.
Lake Rotoiti
Accessible only by boat or air, you can make an evening flying visit to these natural hot springs on Lake Rotoiti. Soak and watch the sunset over the lake with friends before cruising back to Rotorua CBD after it closes at 10 pm. Is this one of the best things to do in Rotorua at night? We think so!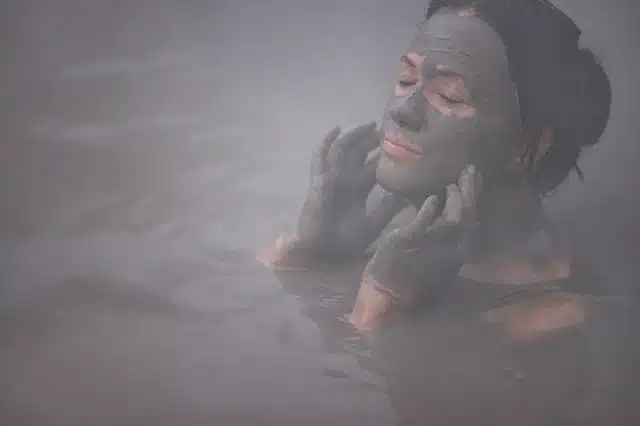 3. Check out Rotorua Night Market
Any city that has a night market is a place that knows what's up! Food, live entertainment and drinks in one place is an awesome way to spend your night. So, grab your friends or family on a Thursday evening and head to the night market on Tutanekai Street in Rotorua city centre for heaps of fun.
4. See Redwoods Treewalk Lit Up
Redwoods' nightlights are incredible. There are not many places you can take a tree-top walk under colourful lights after dark. Spend your evening seeing the Redwoods forest covered in creative twinkling lights and 30 lanterns, getting some awesome pictures for your Rotorua trip highlights. Opening hours are until 10:30 pm, the walk would take you around 40 minutes to complete.
If nature and everything green are as important to you as it is to us, then you may love to know that we offer GO Zero car rentals so you can drive your car hire with a minimal carbon footprint.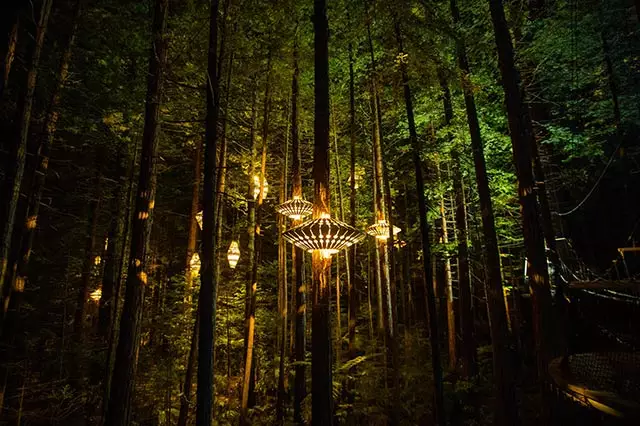 5. Take a Night Cruise on Lake Rotorua
Jump onboard the Lakeland Queen for a night view of Lake Rotorua and sunset dinner. Enjoy a full buffet and bar with New Zealand wines to try whilst you see the beautiful landscape of Lake Rotorua in the twilight. Lakeland Queen is a heritage vessel operated by paddle at the back and is the only vessel of its kind in New Zealand.
6. Race the Night Luge
At Skyline Rotorua, you can ride the Skyline gondola up to the top and then race your friends on the night luge back down. Now that's one of the most awesome things to do in Rotorua at night! Check the sunset times for when Skyline Rotorua and the night luge will light up with colourful lights and you will be in for a fun night.
7. Maori Cultural Experience
Maori night time feasts, traditions and rituals are amazing to experience and there is nowhere better than Rotorua. With the highest Maori population of any city in New Zealand, Rotorua really celebrates and preserves the Maori culture.
Te Pa Tū (Previously named Tamaki Māori Village)
Visit the award-winning Tamaki Māori Village to feast on traditional food whilst you watch a performance of songs and learn about the traditions still kept alive. Their 4 hour evening experience runs in line with the Maori lunar calendar so check their website for opening times and dates, it is worth it for the special fun night.
Learn all about a traditional Hangi earth-cooked feast you must experience whilst in New Zealand.
Te Puia
Te Puia is truly magical at night. Join them by torchlight to see the bubbling geothermal geyser, hear the Maori stories and legends and beautiful native bush in this 70 hectacre park. The tour takes 90 minutes and children over 8 are allowed to join. It is a breath-taking view and the Maori stories make it a multi-sensory experience.
8. Take in a Rotorua Sunset
The Rotorua landscape has been described as Jurassic Park-like with the volcanic mountains and steaming hot pools mixed with native bush. So you just know that a sunset here is going to be truly spectacular. Here are our favourite spots:
Lake Tarawera with a view of Mount Tarawera

Lake Rotoiti

Kuirau Park

Pukeroa Hill with views of Lake Rotorua
If you need more ideas for Free Things to do in Rotorua, we have written up the best list.
9. Be Blown Away with Ngongotaha Stargazing
Ride the skyline Rotorua to the top of Mount Ngongotaha for a stargazing tour that is out of this world. With minimum light pollution and professional telescopes, you can explore the night sky and learn about the constellations.
If stargazing blows you away then we've got you. Check out our list of the best places to stargaze in New Zealand.
10. Taste Everything on Eat Street
Eat Street is the place to be for all the best restaurants, bars and desert in Rotorua at night. Forget making lists of restaurants across the city centre you must visit, just head here every night and make your way through the best places to eat with an awesome atmosphere. It's where all the locals go so you know it's going to be good.
11. Paddle Board through a Glow Worm Cave
We don't need to say much more than that to get you excited about this experience do we? But we will because it's just too awesome not to talk about. Join Paddle Board Rotorua just before sunset and set sail across Rotorua lake to a tunnel. When the sun is fully set, they will tell you to lie back and the whole cave will light up with glow worms. It is a genuine, pinch-yourself, "is this real" moment that will make your trip to Rotorua one to remember.
---
Frequently Asked Questions
How many nights do you need in Rotorua?
You should plan minimum 3 nights in Rotorua to make the most of the amazing landscapes, hot pools, adventure and fun night activities here. If you want to try everything then plan a classic Kiwi road trip without a set itinerary and just see where your fancy takes you.
Use our trip planner to make the most of your North Island trip.
Is Rotorua safe at night?
New Zealand is mostly safe wherever you go but especially in Rotorua. It is a place to visit to relax and connect with nature, and that is no different at night. Even the locals don't go wild on Saturday nights so you will be more than safe in Rotorua.
Do I need a car in Rotorua?
To make the most of the 18 lakes, volcanic mountains, native forests and activities, it is recommended that you have a car in Rotorua. At only a 2.5-hour drive from Auckland, you could pick up a GO Rentals hire car and take your trip to Rotorua straight away.