Looking for some inspiration for things to do in Kaikoura? Look no further – we are the gateway to all things amazing when it comes to the best attractions in Kaikoura. But before we dig in, let's talk a little bit more about the very awesome town of Kaikoura.
On the east coast of the South Island, you'll find Kaikoura, an amazing little town that is an incredible place to visit. We decided to put together this list of things to do in Kaikoura that are amongst the most magical and memorable that you can experience in the entire country.
Think that's a bold claim? Carry on reading and discover 11 of the best activities in Kaikoura that will knock your socks off!
1. Whale Watching
View this post on Instagram
The biggest thing that draws people to Kaikoura (both figuratively and literally) are the Sperm Whales that live off the coast. The Whale Watch Kaikoura experience is a must-do attraction and gets you pretty much as close as you can get. They are some of the most magnificent and mesmerising creatures in the world, an undeniable fact when witnessed in the flesh. Whale Watch Kaikoura is also a GO Play partner so our customers get a 10% discount as well! Whale watching is undoubtedly the biggest attraction in Kaikoura and it is one that should be on every Kiwi's bucket list as well as international visitors.
2. Dolphin Encounters
View this post on Instagram
Whales aren't the only marine life you can witness in Kaikoura as there are also dolphins (dusky dolphins to be precise) to encounter. With this experience, you actually have two choices as well. You can watch them from the boat or you can dive into the water and swim with them! These inquisitive and friendly creatures are extraordinary and the good people at Dolphin Encounters are also a GO Play partner offering a 10% discount!
3. Kaikoura Museum
View this post on Instagram
Moving inland for a moment and to one of the highest rated Kaikoura attractions, the Kaikoura Museum. New Zealand is blessed with a number of great museums and this is certainly another fantastic example. This state-of-the-art museum explores the rich heritage and history of the region as well as recent events which have occurred including the devastating earthquake in 2016. Informative, insightful and inspiring!
4. Kaikoura Peninsula Walkway
View this post on Instagram
The landscape is something that can't be missed and the best way to immerse yourself in it is via the Kaikoura Peninsula Walkway. The walk in its entirety takes 3 hours and follows an amazing section of the east coast of the South Island with the opportunity to see bird and marine life along the way. You'll also see historic Maori Pa, whaling sites and enjoy cliff-top views.
5. Fyffe House
View this post on Instagram
One of the old remnants of the former whaling industry has also been converted into a fascinating attraction and that is Fyffe House. It's the oldest building in the region and was established as part of a whaling station in the 1840s. Remarkably, the foundations of the building itself are actually supported by whale bones! The artefacts and dioramas inside are illuminating and it's a great time capsule of the era.
6. Lavendyl Lavender Farm
View this post on Instagram
The whaling era has long since passed and Kaikoura is now famous for other things like lavenders! A visit to the Lavendyl Lavender Farm is an easy and relaxing way to spend a peaceful few hours. The gardens are incredible in full bloom and there are also tea rooms to enjoy and plenty of lavender products that make great gifts for your friends and family back home.
Book a vehicle for this trip
We recommend: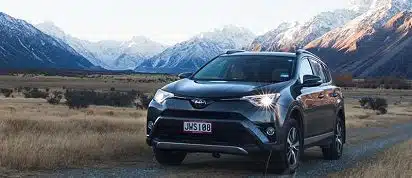 Intermediate 4×4
Toyota Rav 4
Seats

5 seats

Large Bags

3

Small Bags

4

Transmission

Auto trans
7. Seal Colonies
View this post on Instagram
As if swimming with the dolphins wasn't enough, you can also swim with New Zealand Fur Seals as part of your trip! Rated as one of the 10 best marine encounters in the world by Lonely Planet, Seal Swim provide memorable experiences in a responsible way. Wet suits and snorkelling equipment are all provided and the knowledgeable guides are amazing. Another of the awesome Kaikoura activities that get our customers a 10% discount too!
8. Albatross Encounters
View this post on Instagram
From magnificent marine life to extraordinary bird life, the albatross are some of the most iconic and revered sea birds in the world. The Albatross Encounter takes you on a 2.5 hour boat tour where you'll see different species of albatross and other seabirds up close, giving you the chance to take some amazing close-up photos. You guessed it, they're also a GO Play partner with a 10% discount!
9. Fishing Charters
View this post on Instagram
Staying on the boats, another awesome thing to do in Kaikoura (especially for enthusiasts) is to charter a fishing tour. There are a number of experienced local owner/operators that have everything you need for a great day out on the water. The seas are abundant with fish and you can expect your catch to include Blue Cod, Grouper, Terakihi and more!
10. Scenic Flight
View this post on Instagram
Another charter you can organise is of the aerial variety for a breathtaking view of the entire region from above. There are a number of tour operators you can book through who have helicopters and/or planes for a range of different experiences (including flight training). It's the ultimate ride with some unforgettable sights.
11. Eat some Crayfish!
View this post on Instagram
It would be an injustice not to include any eating experiences when talking about Kaikoura so our last recommendation is to enjoy some crayfish! Not only is it a speciality of the region, but Kaikoura itself translates from Maori to mean "Eat Crayfish". If that doesn't compel you to do so, nothing will, but we're sure you will with no shortage of places to dine.
Some amazing attractions in Kaikoura
So concludes our list of 11 things to do in Kaikoura. As much as we hope you've enjoyed reading it, we're without doubt you'll enjoy visiting it even more. A truly magical place that gives you nothing but the very best of memories. If you are looking to explore the wider Canterbury region, make sure you check out our welcome to Canterbury guide for lots of great tips on things to see and do in Canterbury.
Updated: 7 October 2021
Related Posts