If you're looking for a classic Kiwi road trip, look no further than the drive from Lake Tekapo to Christchurch or vice versa. Whether you're heading north or south on your South Island road trip, Lake Tekapo is one of those destinations that you have got to add to your itinerary.
For those of you that may not know too much about Lake Tekapo, a picture says a thousand words: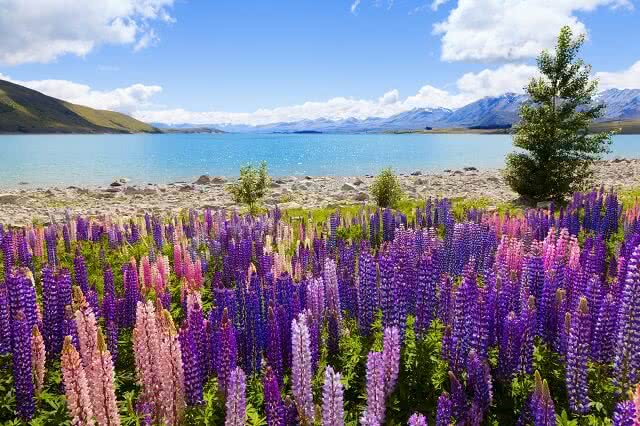 How amazing does that look? For first-timers to the South Island, the first time you round the sweeping bend and catch a glimpse of the turquoise waters for the first time will actually take your breath away. It's truly like nothing you have seen before. Framed by the backdrop of the Southern Alps and often surrounded by blooming lupins, Lake Tekapo is a magical place to visit, however, let's not get carried away with ourselves.
This is a post about the journey, not the destination. We could wax lyrical all day long about Lake Tekapo and if you want to read more, make sure you check out our post – 13 things to do in Lake Tekapo – serenity and more – where you will discover all the amazing things there are to do in and around Lake Tekapo.
For now, however, we are going to focus on the journey, and we are going to start off in Christchurch as that is a very common route for travellers. Fly into Christchurch, rent a car and hit the road south to Queenstown with the first leg taking you between Christchurch and Lake Tekapo.
Driving between Christchurch and Lake Tekapo
There are actually two routes you can take between Christchurch and Lake Tekapo – the conventional route is to take SH1 – the main artery through the South Island and this is a practical route that will get you from A to B with some pretty views along the way and a couple of nice places to stop off.
For a more scenic route, we recommend taking the slightly longer route that will take you west on SH73 towards Arthur's Pass before you take a left turn and head south down SH77 and then connect with the Inland Scenic Route 72. This route will take you to the stunning Rakaia Gorge and is also the route you would take in the winter if you were heading to the ski fields of Mt Hutt.
In truth, the longer route will take you around 3 hours (with no traffic) versus 2 hours and 45 minutes heading on the more direct SH1 route. Of course, heading the longer route does mean more stop-offs and places to see along the way, however, this is all about the journey and not the destination so ignore the clock and enjoy the drive.
7 of our favourite stops on the drive from Christchurch to Lake Tekapo
No matter which road you take to get there, the drive from Christchurch to Lake Tekapo is scenic from start to finish. As you wind your way down the heart of the South Island, the towering Southern Alps will be with you every step of the way.
We've picked out seven of our favourite stops along the way but we're sure you have got more great stories up your sleeve so please leave us a comment at the end if there are any we have missed.
1.      Rakaia Gorge (SH77)
View this post on Instagram

We may as well kick things off with arguably the best reason to take the slightly longer SH77 route – the Rakaia Gorge. This will be your first opportunity to catch a glimpse of the stunning blue waters that are such a feature of this road trip but for us, the highlight of the visit is the opportunity to walk the Rakaia Gorge Walkway – a 10km return walking track that follows the edge of the gorge.
Despite its relatively short length, the Rakaia Gorge Walkway is one of the most beautiful day walks in New Zealand and should only take you between 2-3 hours to complete. The walkway will take you through native forest and along the way, you will see remnants of the Snowdon coal mines. There are some cracking lookout points along the way and if it's a hot day, the river is the perfect place to cool off although be warned – the glacier-fed waters are icy cold!
The Rakaia Gorge is around an hour's drive from Christchurch and a great place for your first stop off of the day heading on the SH77 route.
2.      Lone Goat Vineyard (SH1)
View this post on Instagram

If you choose to take the more direct route, one of the first stop-off points along the way comes early into your road trip and is a relatively short drive from Christchurch if you are not planning a drive to Lake Tekapo.
The Lone Goat Vineyard is a bit of a hidden gem but not to those who stop off there and can't wait to tell people about it. Whilst they are well known for their Chardonnay and Pinot Noir, a recent review suggests that the Ehrenfelser or late-harvest Riesling should not be missed as they are "both delicious".
Located in the original Giesen Wines headquarters, and producing wine for almost 30 years, the name was inspired by their goat Ella, who lived next door to the vineyard, and Zoe is the current goat living up to the lone goat moniker.
Wine tours are available, but these need to be booked in advance and it's definitely worth a stop off to sample some of their delicious varietals and stock up for the rest of your trip.
3.      Mt Hutt (SH77)
View this post on Instagram

Mt Hutt is one of New Zealand's best ski resorts but no matter what time of year you visit, there is always something to do there. In the winter months, it's definitely worth considering tagging on a day of skiing to your road trip from Christchurch to Tekapo – why not?!
Mt Hutt is a great ski resort for all levels of skier and snowboarder with some great options for off-piste action as well as some wide, open slopes that are more suited to beginners and intermediates. The snow parks at Mt Hutt are lots of fun and it's a great place to take the whole family. Mt Hutt has been voted as New Zealand's best ski resort for seven consecutive years from 2015 to 2021.
In the summer months, Mt Hutt is easily accessible by car and you can take the access road right to the top where you will be rewarded with some stunning views. There are some short walks that you can use to stretch the legs, however, the main draw of Mt Hutt is definitely the snow in the winter months.
Mt Hutt will open from 10 June to 16 October 2022.
4.      Lake Coleridge (SH77)
View this post on Instagram

Before you reach Mt Hutt and the Rakaia Gorge, a good detour will take you to Lake Coleridge. Located in the Selwyn region, Lake Coleridge is a great place to head for a few days with plenty of things to see and do, but it also makes a great stop off on your drive south.
From hiking and jet boating to skiing and boutique stays, Selwyn's Lake Coleridge is an impressive destination with a wealth of things to fill your day.
The drive from Christchurch to Lake Coleridge will take less than two hours and you will quickly forget all about the big city lights as you find yourself a world away from the city. It is a truly stunning location and one that slips beneath the radar for a lot of Kiwis and international visitors alike and we're here to set the record straight – add Lake Coleridge to your road trip itinerary and we promise you will not be disappointed.
5.      The Lake House at Lake Hood (SH1)
View this post on Instagram

Ashburton is one of the biggest towns on the drive from Christchurch to Lake Tekapo and one of the hidden gems we found on our last trip down this way was the Lake House at Lake Hood. To be honest, we were just looking to stretch the legs with a stroll around the lake, however, the amazing smells coming from the Lake House just drew us in.
This place is an absolute triumph – an American style smokehouse BBQ with 12-hour smoked cuts of meats with flavours imparted from West Coast Manuka and Beech and fruit woods sourced from Central Otago. Drooling yet?
Lake Hood is around an hour and 15 mins from Christchurch and honestly, it's worth the drive even if you are not heading on to Tekapo – it's that good. Indulge in Smoked Brisket, Boston Butt, Pork Ribs, Beef Ribs, Texas Jerk Chicken, House-Made Sausage, Buffalo Wings all covered with their homemade authentic American BBQ sauce and sides.
6.      Skydiving Kiwis – Ashburton (SH1)
View this post on Instagram

Whilst you're in the Ashburton area, it's also worth considering a pretty unique adventure activity – helidiving. That's right – instead of jumping out of a fixed-wing aeroplane, you will instead take the plunge out of a helicopter – very cool indeed.
This bucket-list worthy helidive combines a scenic helicopter flight in a BK 117 over the cityscape of Christchurch, followed by a skydive out of the helicopter over the breath-taking Eastern coastline and is topped off with a beach landing softly in the sand of Sumner Beach.
Skydiving Kiwis are the only company currently offering a skydive from a helicopter here in New Zealand and one of only seven companies to offer this in the world. Whilst you can go skydiving all around New Zealand, this one is pretty special and if you are looking for a unique experience, then this is right up there with the best.
7.      Geraldine (SH1 and SH77)
View this post on Instagram

Geraldine is a small town located in the heart of South Canterbury on SH79. No matter which route you take from Christchurch to Lake Tekapo, you will find yourself passing through Geraldine and whilst it is a great place to stop off for refreshments, grab a bite to eat and fuel up, there is more to Geraldine that just a quick pit stop town.
Located in the foothills of the Southern Alps, Geraldine has a lot going on. From horse riding to canyoning, the Vintage Car and Machinery Museum to bike riding trails, you could easily spend a few hours in and around Geraldine, exploring this scenic town set to the stunning backdrop of the towering mountains of the Southern Alps.
Geraldine is known as the gateway to the lakes in the central Mackenzie Basin and the beginning of the Starlight Highway to Tekapo's world-renowned UNESCO Aoraki McKenzie International Dark Sky Reserve. From Geraldine, it will take you just over an hour to get to Lake Tekapo and it's a stunning final leg of the journey that will bring you to your final destination.
Summary
No matter which route you take, the drive from Christchurch to Lake Tekapo or vice versa is a stunning one that is packed full of amazing places and hidden gems. If you have the time, try and make a stop at at least one of the seven places we have listed above – it will not only help to break up your journey but you will also get the chance to do something different as well as support local businesses in the towns along the way.
If you are planning a trip that will take you from Christchurch to Tekapo or vice versa, make sure you check out our Guide to Christchurch as well as our things to do in Tekapo blog to help you to plan your trip.
Related Posts