Updated: 11 March 2021
As we start to leave the summer behind us and head into the autumn and winter months, there are still plenty of reasons to take a trip south and head to the magnificent Lake Tekapo. As the temperatures start to drop, so do the leaves on the trees that surround the stunning turquoise waters of Lake Tekapo, but not before they have put on a show first.
New Zealand is a great place to see some truly magical autumnal colours and Lake Tekapo is one of the top spots in the country to witness the show. If you head down that way any time from early March through to the end of March and early April, you will get to witness the changing of the seasons before your eyes as the trees turn from green to a vibrant display of shades of reds, oranges and yellows. You can find out more about the best places in New Zealand for autumnal colours in a recent blog.
As well as the autumnal colours, there are so many other reasons to visit Lake Tekapo. Whilst it is often seen as a good place to stop to break up the drive from Christchurch to Queenstown, there is so much more to this quaint little South Island town. Most people stretch their legs, take a few photos and head off on their way. But the truth is, Lake Tekapo is a great getaway destination in its own right with plenty of things to keep you busy. Without any problems at all, we managed to find 13 fantastic things to do in Lake Tekapo which we present to you in our list below!
1. Church of the Good Shepherd
The first one is a given. The one that everyone knows about, not just in New Zealand but the world over. The Church of the Good Shepherd is one of the most photographed places in the country and it looks every bit as good when you see it in person. This humble little church sits against probably the most incredible backdrop conceivable, before the lakes and mountains of the Southern Alps. It's simply breathtaking and is worth the visit alone.
View this post on Instagram
2. Sheepdog Memorial
Just around the corner from the Church is the Sheepdog Memorial on Mackenzie Street, another great photo opportunity in an extraordinary setting. The memorial statue (of a border collie) is a tribute to the sheepdogs that played such an important role in the history of farming in the region. They were originally brought over by the Scottish settlers were vital to the work and success of the people at the time. It stands today as an important monument for the community.
View this post on Instagram
3. Lupins, lupins and more lupins!
If you time your visit right (between November – February) you'll be able to enjoy the blossoming and beautiful lupins in and around the lake. The lupins aren't native to New Zealand and are actually considered a bit of a nuisance to the environment. No one can deny their beauty however with their shades of pink, purple and violet that pop out in the landscape like jewels in the light of the golden sun.
View this post on Instagram
4. Lake Tekapo Regional Park
Lake Tekapo also has a regional park which carries its name and offers a wide variety of things to do. The 165-hectare park has 24 km of walking and cycling tracks with lush forests and amazing sceneries of the lake to take in. There's also an orienteering trail, swimming spots and a dog park too. It's a great spot to bring or hire a kayak as well.
View this post on Instagram
5. Cowans Hill Walkway
Given the pristine scenery of the region, it comes as no surprise that there are a number of fantastic walks to discover and experience. One of these is the Cowans Hill Walkway, a 1-2 hour walk that takes you to the top of Cowans Hill. Enroute you'll walk along a river bank, cross a bridge and enter a forest plantation up towards the summit.  There, you'll enjoy 360 degree, panoramic views of Lake Tekapo and all that's around.
View this post on Instagram
Book a vehicle for this trip
We recommend: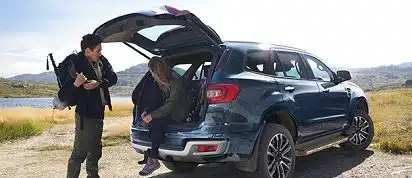 4WD SUV
Ford Everest Titanium
Seats

5 seats

Large Bags

4

Small Bags

6

Transmission

Auto trans
6. Mt John Summit Track
For perhaps a more serious tramper in need of a challenge, the Mt John Summit Track is a decent step up (literally). It's a 90-minute hike through a variety of terrains including forest and tussock hills. It zig-zags quite steeply in parts up towards the summit and so requires a decent level of fitness but the rewarding views are well worth it.
View this post on Instagram
7. Mt John University Observatory
After your walk on the Mt John Summit Track you're conveniently placed to pop along to the Mt John University Observatory. The night skies around Lake Tekapo are particularly clear (more on this later) and the observatory is perfectly placed to take advantage of this. You can join their informative evening tour where you'll be shown (and get to use_ their equipment, including their powerful Earth & Sky telescopes!
View this post on Instagram
8. Stargazing in the Dark Sky Reserve
Lake Tekapo sits within the Aoraki/Mackenzie International Dark Sky Reserve – a classification that is given to places with the clearest skies in the world. This makes it the perfect place to visit for all those astrophotographers out there with the literally millions of stars above. If you're not a pro but still want to experience it there are also plenty of local stargazing tours you can join within the region and the Aoraki Mt Cook National Park where you'll be shown the way.
View this post on Instagram
9. Lake Alexandrina
Even though Lake Tekapo is the name of the place, it's not the only lake in the area with another being the smaller Lake Alexandrina. Like Lake Tekapo, it's surrounded by beauty and has plenty to offer despite its size. It's a very serene and peaceful lake and is a great option to avoid larger crowds that can gather at Lake Tekapo. The water is deep and reflects the landscape wonderfully, great for the photos. You can even take a rowboat out on it which is equally relaxing.
View this post on Instagram
10. Jet boat
For something with a kick of adrenaline, you can't go past a jet boat experience which is exactly what you can do in Tekapo. It's a thrilling way to see the waters of the lake, up close and personal (maybe too close for some). Each trip takes an hour (including pick-up/drop-off) with a journey that takes you around Motuariki Island in the middle of the lake.
View this post on Instagram
11. Trout and Salmon Fishing
If you are by chance a fishing enthusiast then you'll be able to discover and enjoy some great spots in Tekapo for sure. There's an abundance of waterways, rivers, streams and creeks to seek out and choose your own great little spot. Some good places to start are Tekapo River, Tekapo Canal and Lake Alexandrina but the locals will know a few other secret locations if you can befriend them for the information..
View this post on Instagram
12. Tekapo Springs
One of the most popular attractions in town is Tekapo Springs, a fantastic facility that offers a range of water activities and services with incredible views to boot. With hot pools, spas, water slides, steam rooms, saunas and more, they basically have everything covered for everyone. They even boast an ice skating rink and a snow tube park in the winter so you can have fun no matter what time of year it is. As a GO Rentals customer, you can also get an upgrade on a steam and sauna experience using your GO Play Card as an added bonus!
View this post on Instagram
13. Scenic Flight
Last but not least, the ultimate premium experience is to take to the skies with a scenic flight over the region. The perspective you'll enjoy from the air will be nothing short of epic with a memorable experience guaranteed. There is also a number of ways you can do this too either by plane, helicopter or glider! All three options are discounted with the just-mentioned GO Play Card so be sure to check them out!
View this post on Instagram
Great things to do in Lake Tekapo!
So there we have it. 13 fantastic things to do in Lake Tekapo that prove you can easily spend more than a few hours in the region. Hopefully, we've inspired you to make a weekend (or more) out of it which we're certain you won't regret! For more ideas for things to do in the region, make sure you check out our Destination Guide to Lake Tekapo and Mount Cook with lots of tips for things to do, where to stay, and places to eat.
If you are looking to explore the wider Canterbury region, make sure you check out our welcome to Canterbury guide for lots of great tips on things to see and do in Canterbury.
Related Posts