When people are planning a trip to New Zealand, one of the most popular questions we get asked is 'What is the highest mountain in New Zealand?' People seem to love exploring the mountains when they visit and discovering the highest is at the top of people's list.
The highest mountain in New Zealand is, of course, the world-famous Mount Cook. Named after one of the world's most famous explorers, Captain James Cook, Mount Cook was the training ground for Sir Edmund Hilary, the first man to summit the world's highest mountain, Mount Everest.
Sitting in the heart of the Southern Alps in the South Island, Mount Cook is not high by international standards, standing at 3,724m, however, it's still an impressive sight for anyone visiting the area. It is possible to climb Mount Cook, although only with the help of a guide and climbing experience. The climb is fairly technical and often underestimated by international climbers due to its modest height compared to other mountains across the world.
Whilst Mount Cook takes a lot of the plaudits here in New Zealand as the highest mountain, there are a number of significant peaks located on both the North and South Islands that are well worth exploring if you have a love of the mountains. We wanted to take a look at seven of the most accessible mountains in New Zealand to give you the low down on why you should pay them a visit.
Mount Cook (Aoraki Mt Cook)
View this post on Instagram

Let's kick things off with the biggie. As we've already mentioned, Mount Cook is New Zealand's highest mountain and certainly one of the most spectacular. Covered in snow all year round, Mount Cook forms the formidable backdrop to the Southern Alps and can be seen from both the West Coast in places like Franz Josef and Fox Glacier as well as in places like Tekapo and Lake Pukaki. Whilst you can summit Mount Cook, it is only recommended for experienced climbers during the months of October to January and you will need a guide. Weather plays a huge role in the climb and there is a lot of glacier climbing and technical challenges.
If you simply love to be around mountains, there are some amazing walks in the Aoraki Mount Cook National Park including the famous Hooker Valley Track. You can also try your hand at glacier kayaking, mountain biking and more. Check out our blog and discover 11 amazing things to do in Mount Cook.
Mount Tasman
View this post on Instagram

Sticking to the South Island and New Zealand's second-largest mountain, Mount Tasman. At 3,497m, Mount Tasman sits just below Mount Cook in terms of height and is also located in the Southern Alps, around 4kms north of Mount Cook. As you would expect, Mount Tasman is also a climb only recommended for experienced climbers with a guide and you can expect a summit climb to take around 6 days.
Mount Tasman is also accessed via Mount Cook Village so if you simply enjoy being surrounded by the mountains, then we would highly recommend a stay in Mount Cook Village. If you do want to explore a bit higher up into the mountains, take a scenic heli-hike flight up to the Tasman Glacier – New Zealand's longest glacier.
Mount Tongariro
View this post on Instagram
Heading up to the North Island and one of the most popular mountains for exploring is undoubtedly Mount Tongariro. Located in the Tongariro National Park and sitting along arguably New Zealand's most famous and popular one-day hike, the Tongariro Crossing, Mount Tongariro sits at an impressive 1,978m. Mt Tongariro is one of three mountains found in the National Park, and whilst it is not the highest (more on that below), it is extremely accessible. You can summit Mt Tongariro as part of the Tongariro Crossing or on the Northern Circuit, another popular walk in the park.
Mount Tongariro is one of New Zealand's most accessible mountains for those looking for a bit of adventure without prior experience of mountain climbing. You can read more about the Tongariro Crossing in our blog.
Mount Ngauruhoe
View this post on Instagram

Staying in the Tongariro National Park, the second of the three mountains located in the park is Mount Ngauruhoe (2,287m). Difficult to pronounce, Mount Ngauruhoe is often known as Mount Doom thanks to its digital transformation in the Lord of the Rings Trilogy. Mt Ngauruhoe is another mountain that can be summited as part of the Tongariro Crossing although you should be aware that this will add time to your walk so if you have pre-arranged pick up at the other end, you will need to factor this in.
Climbing Mount Ngauruhoe is a pretty cool experience. Treading the same path as Frodo and Sam has a big appeal to many visitors to New Zealand. Mountain climbing experience is not necessary, however, a good level of fitness is recommended as the climb is steep and you will find yourself scrambling in many parts up the old lava flow.
Mount Aspiring
View this post on Instagram

Heading back to the South Island and another of New Zealand's mountains topping 3,000m is Mount Aspiring (3,033m). Located in the Mount Aspiring National Park, Mount Aspiring is often compared to Switzerland's Matterhorn and was carved into a four-sided pyramid by ancient glaciers. It's the only 3,000m+ mountain in New Zealand located outside of Aoraki Mount Cook National Park and is the perfect place for those who love exploring the great outdoors.
There is a wide range of walking tracks located in the National Park which is also home to some of New Zealand's most famous natives including the mischievous kea bird. Summiting the peak is possible and it's a popular one for climbers due to the shape and aesthetic lines of the climb.  There are around 100 summits of the mountain each year, mostly along the easier Northwest Ridge. For more experienced climbers who are looking for a challenge, the Southwest Ridge is highly rated.
Mount Ruapehu
View this post on Instagram

The third and final mountain located within the Tongariro National Park is the highest peak – Mount Ruapehu (2,797m). Mount Ruapehu is perhaps best known as the North Island's largest ski field and is an extremely popular destination in the winter months with skiers and snowboarders. The mountain itself can be climbed in a day (takes roughly 5-6 hours if you take the Whakapapa Ski lift of 7-10 hours if you walk from the base), however, it is recommended that you go with a guide as it is an unmarked route.
The new Sky Waka gondola is a great way to experience the mountain during the summer and winter months and the gondola will get you up to the Knoll Ridge Chalet in just 5 minutes, helping to set you on your way. The Tongariro National Park is a walker's paradise and with three mountains to choose from as well as a number of low-level walks, it's a great place to explore all year round.
Mount Taranaki
View this post on Instagram

The final mountain on our list is another located on the North Island. Mount Taranaki is located in the Taranaki region on the east coast and is perhaps New Zealand's most iconic looking mountain. Viewed from above, the perfectly conical shape of Mount Taranaki is something to behold. Sitting at 2,518m, the summit of the mountain is accessible to those with a good level of fitness from December to April.  It's a 6.3km walk one-way so expect the walk to take up to 10 hours return which includes 1.6km of vertical climb to the peak.
From May to November, the mountain is covered in snow and ice so mountaineering experience and equipment is required.  Mt Taranaki sits in the Egmont National Park and there is plenty to do in the park other than tackling the summit. The Pouakai Crossing is quickly gaining a reputation as one of the best one-day walks in New Zealand and winds its way around the lower slopes of Mount Taranaki. This 19km one-way walk puts it in the same bracket as the Tongariro Crossing and the views are just as spectacular.
New Zealand Mountain FAQs
The mountains of New Zealand are definitely a big draw factor for visitors no matter what season. During the winter months, the ski resorts throughout the North and South Islands are popular destinations, with world-class skiing opportunities in Queenstown, Christchurch and Ruapehu. During the summer months, many of the mountains in New Zealand can be walked/climbed and these attract many people to experience the challenge of summiting one of our magnificent peaks. There are lots of questions about our mountains – here are some of the most popular:
How many mountains are there in New Zealand?
According to Peak Visor, there are 8,795 named mountains in New Zealand although some of these are only very small. Looking at the list of notable hills and mountains in New Zealand, the smallest noted mountain is Mangere Mountain at just 107 m compared to the highest mountain in New Zealand, Aoraki Mount Cook at 3,724 m.
Can you climb Mount Cook?
It is possible to climb Aoraki Mount Cook but it is only for experienced mountain climbers and should only be attempted with a guide. It will take around 6 days to summit Mount Cook and a high level of fitness is required.
Can you climb any big mountains in New Zealand without a guide?
Mountain climbing in New Zealand doesn't have to be for experienced climbers only. There are lots of mountains in New Zealand that can be summited by anyone with a decent level of fitness. You need to be well prepared – pack spare clothes for any changes in the weather, spare food, a first aid kit, a sturdy pair of shoes, water and a map. Some of the most popular mountains to climb in New Zealand include:
Pirongia Mountain (959m) – Waikato
Mount Taranaki (2,518m) – New Plymouth
Roys Peak (1,578m) – Queenstown
Mount Wakefield (2.058m) – Mount Cook
Ben Lomond (1,748m) – Queenstown
As you can see, there are some great peaks to climb in New Zealand that don't require a guide and can be tackled by those with a good level of fitness so make sure you add them to your bucket list as there is nothing like the thrill of summiting a mountain.
Round-Up
So, there we have it – seven of New Zealand's most accessible mountains including the highest mountain in New Zealand, Mount Cook. New Zealand is jam-packed full of mountains waiting to be explored. Not all of them are soaring peaks located within the vast mountain ranges of the North and South Islands. Mount Maunganui at 232m is not only one of the smallest peaks but it's also one of the most climbed with hundreds of people making the summit every single day.
If you love the mountains, make sure you check out some of the suggestions above when planning your itinerary. Most of the mountains are accessible via popular tourist destinations including Wanaka, Taupo, Tekapo and Queenstown so it's never too far to go and visit one of these spectacular mountains.
Book a vehicle for this trip
We recommend: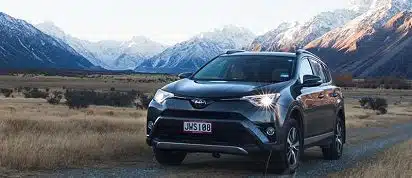 Intermediate 4×4
Toyota Rav 4
Seats

5 seats

Large Bags

3

Small Bags

4

Transmission

Auto trans
Related Posts