New Zealand is a pretty special place. No arguments from anyone on that one. We have amazing beaches, beautiful national parks, oodles of wildlife, towering mountains and heaps of green space.
We're not on our own with these things though.
Scotland was recently voted the most beautiful country in the world. They were joined by Canada at number 2 and New Zealand at number 3.
There are plenty of beautiful places to visit in the world, so why New Zealand?
Well, there are some things out there that you can only do in New Zealand. That's right. You may be able to climb a mountain in Scotland or see a waterfall in Canada, but the 10 things on our list are only an option right here in New Zealand.
So pack your bags and get yourself over here to tick these 10 amazing activities off your list!
1.      Visit a Hobbit Hole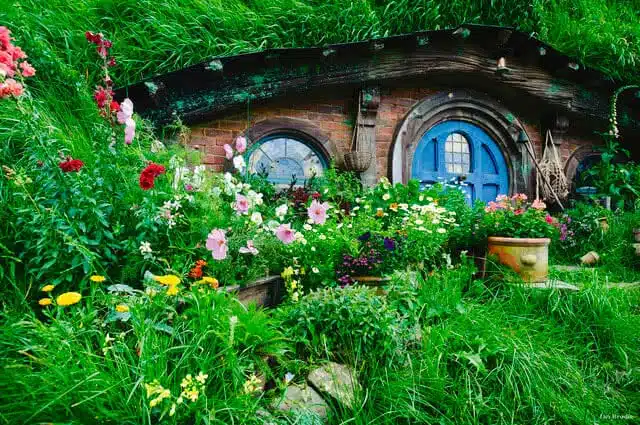 That's right. Here in New Zealand, you can pay a trip to Bag End and head into one of the world-famous hobbit holes from the Lord of the Rings and Hobbit Trilogies. You can even have a pint down at the Green Dragon.
Lord of the Rings Activity Guide
2.      Ski and Surf on the same day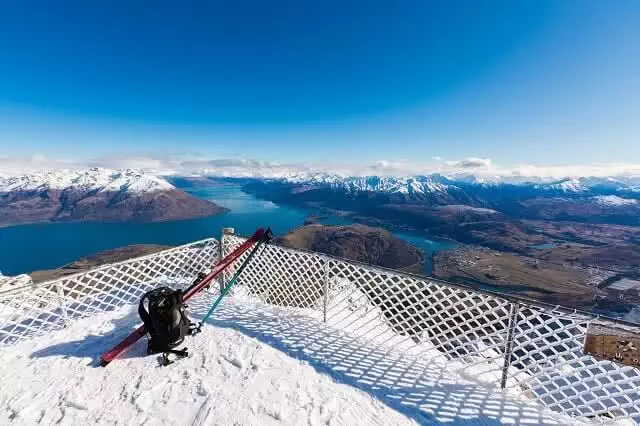 No part of New Zealand is more than 128kms from the sea. That means it's pretty feasible to head to the slopes for a ski in the morning and be surfing the waves by the early afternoon. Or vice versa!
3.      See the sun rise before anyone else in the world
Gisborne over on the east coast of New Zealand is the first place in the world to see the sun rise each and every day. Now that's pretty cool. You can be one of the very first people to welcome in the new day and if you're here around New Year, be one of the first people to see the start of a New Year.
4.      Swim in the clearest lake in the world
Nelson's Blue Lake is the clearest in the world. You can see down as far as 80m! That's a long way! It's so cool swimming in the lake – it's also pretty cold but a great way to cool off on a warm summer's day.
5.      Run up the steepest street in the world
Just kidding! You must be out of your mind to even consider running up this street! Baldwin Street in Dunedin is officially the world's steepest. A highlight each year is the annual Jaffa race where thousands of Jaffas (orange flavoured chocolate balls) get chucked down the street in a race to the bottom – we know how to rock it out here in New Zealand!
6.      Set a Gum Boot Throwing world record
Taihape is the home of the annual gum boot festival where competitors get the opportunity to set new world records in gumboot throwing. Sounds like a challenge worth taking up to us and one for the CV!
7.      Meet a real-life Kiwi Bird
New Zealand is the only place in the world where you will find the Kiwi bird in its native habitat. They are such a cool bird and not that easy to come across. There are a few places in NZ where you will find them in their natural habitat – be prepared for a late night though; they are nocturnal so you only tend to find them out and about at night.
8.      Visit the town with the world's longest place name
You may want to do a copy and paste on this one if you are trying to track it down in Google Maps though – it's not that easy to spell! Taumata­whakatangihanga­koauau­o­tamatea­turi­pukakapiki­maunga­horo­nuku­pokai­whenua­kitanatahu officially has the longest place name in the world and is definitely worth a stop off.
9.      Bungy at the home of bungy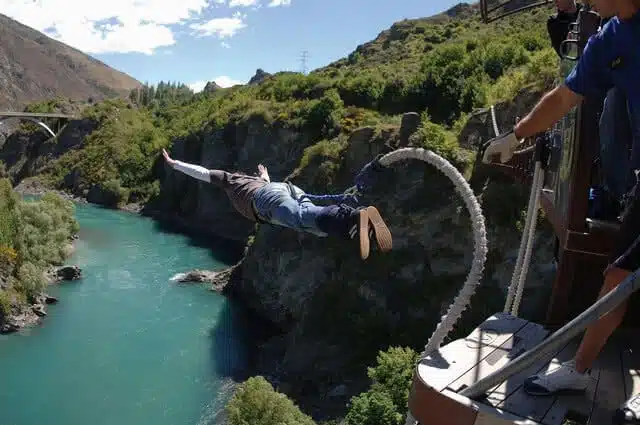 Whilst you can go for a bungy jump all over the world these days, if you want to go to the home of bungy, the place where it all started, then you're going to have to take a trip to the Kawarau Bridge bungy site near Queenstown. This is where bungy was born and was the site of the first ever commercial bungy.
10. Raft down the world's highest commercially rafted waterfall
We love our extreme sports in New Zealand. Whitewater rafting is one of the most popular but if you want to take it to the most extreme, you need to take a plunge down the world's highest commercially rafted waterfall. It's located near Rotorua and you might want to pack some spare clothes!
So there you have it, 10 things you can only do in New Zealand. We have tried them all (except the surfing/skiing combo – the water was too cold!) and we can officially say they are all amazing! We even managed to run about 20 metres up the world's steepest street before collapsing!
Related Posts
We'd love to hear about your exploits out and about in New Zealand so drop us a comment below or get in touch on our Facebook page.
Book a vehicle for this trip
We recommend: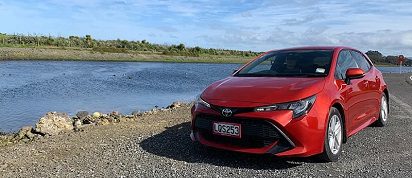 Compact Auto
Toyota Corolla
Seats

5 seats

Large Bags

2

Small Bags

1

Transmission

Auto trans