Rotorua is one of New Zealand's most popular tourist destinations all year round. Whilst there are so many things to see and do in and around Rotorua, one of the best reasons to visit Rotorua, especially in the colder months, is the hot pools. As we look to welcome back international visitors from Australia beyond, Rotorua is sure to be a hotspot for visitors looking to soak up some New Zealand culture and where better to soak things up in Rotorua than the hot pools?
Rotorua should be one of the places to add to your list, especially if you have never been before. The geothermal attractions that the city is famous for make it a great place to visit during the winter months. There is nothing better than sitting back and relaxing in natural hot pools formed by the geothermal activity beneath the earth – especially when it's freezing outside!
Rotorua has some amazing geothermal attractions and you can read more about these in our Rotorua City Guide.
Whilst there are undoubtedly some amazing hot pools in and around Rotorua like the Polynesian Spa, this post is all about FREE hot pools that anyone can go and enjoy without spending a single cent – how good is that?
Yep – that's right. We're giving you all the insider tips on where to relax in Rotorua this winter. No one knows New Zealand better than the team here at Explore NZ – and of course, we couldn't do it without you! We get so many amazing tips and local know-how that we just have to share it with you all. Check out these four awesome locations and enjoy some free hot pool action this winter!
1.      Kerosene Creek
View this post on Instagram
Perhaps the most famous of the free hot pools in Rotorua is Kerosene Creek and for that reason, it can get pretty busy but it's always worth it. The winter tends to be a bit quieter, but even on the weekends, it can still get busy in the winter.
Kerosene Creek is located around 35kms south of Rotorua near Wai-O-Tapu and is surrounded by native bush which adds to the magic. There are a few parking spaces available on the side of the road and from there, you can follow a small track down to the pools.
What's really cool about Kerosene Creek is the 2m high waterfall that feeds into the geothermal pools – the perfect place to sit and unwind.
2.      The Bridge – Wai-O-Tapu
View this post on Instagram
Whilst you're down near Wai-O-Tapu, there is another hot pool location very close by. With all the geothermal activity at Wai-O-Tapu, it's perhaps no surprise to find so many hot pools within close proximity.
The Bridge – also known as Hot and Cold – is a bit different to Kerosene Creek in that it's a place where hot and cold waters come together. Hot waters are fed in from the Wai-O-Tapu spring and meet with freezing cold waters in the stream. This is a pretty cool experience and it definitely takes a bit of shuffling before you find the perfect spot – not too hot and not too cold!
It's another popular spot as people who have been to check out the Wai-O-Tapu geothermal attraction will often head to The Bridge afterwards for a soak in the waters so you can mingle with locals and tourists alike as you all try and find the perfect spot.
3.      Kuirau Park
View this post on Instagram
If you are looking for something a bit closer to home, head to Kuirau Park, close to the CBD area in Rotorua where you will find the perfect place for a relaxing foot spa. Kuirau Park is a free geothermal park in the heart of the city which features dedicated foot pools which channel the warming geothermal waters. It can be a bit pongy at times as the sulphur levels are pretty high down there but it's definitely worth it once you get used to the smell.
Make sure you don't go beyond the fenced areas as some of the geothermal waters are steaming hot and not safe for people to dip their toes. You will often find locals down here bathing their feet so make sure you say hello – they may be able to point you in the direction of some more hidden gems in and around Rotorua.
4.      Waterfall Spout Bath
View this post on Instagram
The final free hot pool location in Rotorua is once again found out near Wai-O-Tapu on the road out towards the famous Lady Knox Geyser. As the name suggests, there is a waterfall that feeds into the geothermal waters and it's a cool little spot to take a soak in the geothermal waters – said to have great healing properties.
It can get a bit muddy – especially in the winter months – however you've got the waterfall to clean off once you get down there – you might want to take something to clean off your shoes when you head back to your car though and make sure you bring warm clothes – it's pretty cold once you get out of the waters!
Exploring the geothermal waters of New Zealand
So, we recommend adding Rotorua to your list of places to visit this winter. Make sure you take the money you save by exploring these amazing FREE attractions and put it back into other local businesses and attractions – it makes a massive difference to them and helps amazing destinations like Rotorua to get back on their feet.
There are of course some fantastic paid facilities in the city including the award-winning Polynesian Spa which you can also check out as part of your trip.
New Zealand is pretty spoilt for choice when it comes to geothermal pools – make sure you check out some of our related posts below to find out where else you can head for a dip this winter.
Related Posts
Book a vehicle for this trip
We recommend: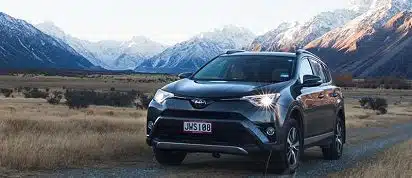 Intermediate 4×4
Toyota Rav 4
Seats

5 seats

Large Bags

3

Small Bags

4

Transmission

Auto trans
Updated: 31 May 2022