Whose idea was this blog post? You want us to come up with a list of just 10 of our amazing natural wonders? Why just 10? Can't we make it, like, 28 or something?
This was our initial response to this blog post but after we had a cup of tea and a Tim Tam, we got down to the business of shortlisting. This was no easy feat. We have a bucket load of natural wonders here in New Zealand so picking the top ten was a tough ask.
We managed it though. Phew!
This is actually a post we wrote way back in 2017 which we decided needed a refresh. The thing is though, natural wonders don't really change all that much. The top ten natural wonders three years ago are still the same today and they are still just as amazing today. If you do have any suggestions for any we might have missed, make sure you head on over to our Facebook page and let us know – we might have to do a rethink in 2021!
So, without further ado, here are our top ten New Zealand natural wonders you need to see (we were going to add before you die but it sounded a bit morbid!).
Let's GO!
1.      Milford Sound, Fiordland
Alright, we get it. You are getting a little fed up of us harping on about Milford Sound but it is flipping amazing! When you talk about natural wonders, this is up there with the best in the world, never mind New Zealand! Carved out by glacial action thousands of years ago, this place is often referred to as the eighth wonder of the world and it's easy to see why. Go there. Now!
2.      Champagne Pools, Wai-O-Tapu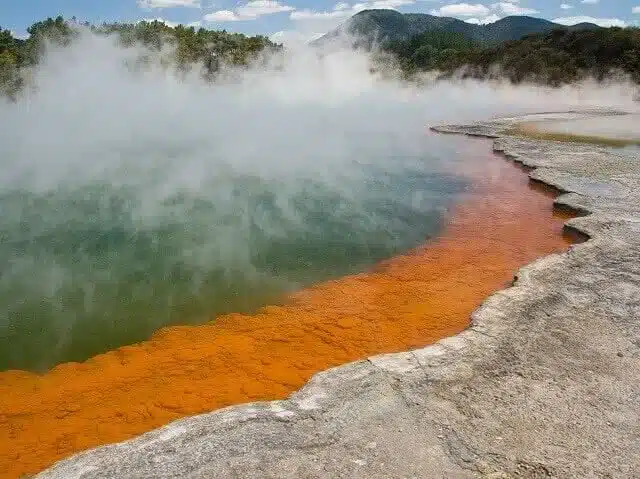 Rotorua has its fair share of natural wonders. If it hadn't been for the eruption of Mt Tarawera in 1886, we may well have been talking about the pink and white terraces which drew visitors from around the world. As it is, they were sadly destroyed but we were still left with some amazing wonders in Rotorua and the Champagne Pools at Wai-o-Tapu are right up there. The vivid colours and the smell (there's a lot of sulphur around Rotorua) make this a must on any New Zealand visit.
3.      Waitomo Glowworms, Waitomo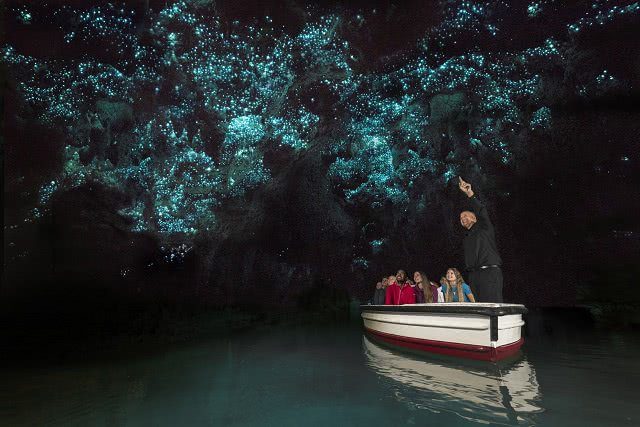 Renowned not only in New Zealand but throughout the world, the glowworms in the Waitomo Caves are a sight to behold. The unique Arachnocampa Luminosa (sounds like a spell from Harry Potter!) can only be found in New Zealand and there are literally thousands of these stunning glowworms found beneath the ground at Waitomo. Take a boat trip into the underground caves to truly appreciate these natural wonders. If you rent your car with GO Rentals, you can also save 10% as Waitomo Caves are one of our exclusive GO Play partners. Boom!
4.      The Blue Pools, Haast Pass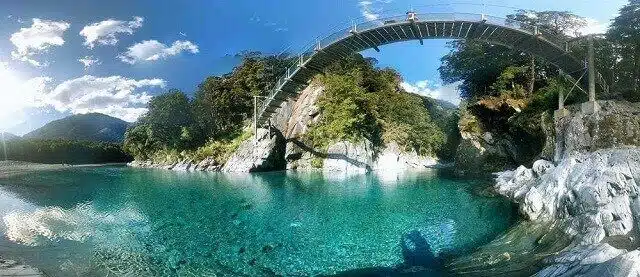 Water features pretty heavily in our top ten natural wonders. With sea all around us and some amazing lakes, it's perhaps no surprise. However, making it onto our list is the amazing Blue Pools which can be found along the Haast Pass between the West Coast and Wanaka. A short bush walk will take you to the pools and you will probably do a double take at the clarity of the water. The pools are pretty deep but you can see everything going on down there including the brown trout swimming around. We've seen a few brave souls jump into the pools from the bridge but the water is freezing so you may want to think twice about it!
5.      Pancake Rocks, Punakaiki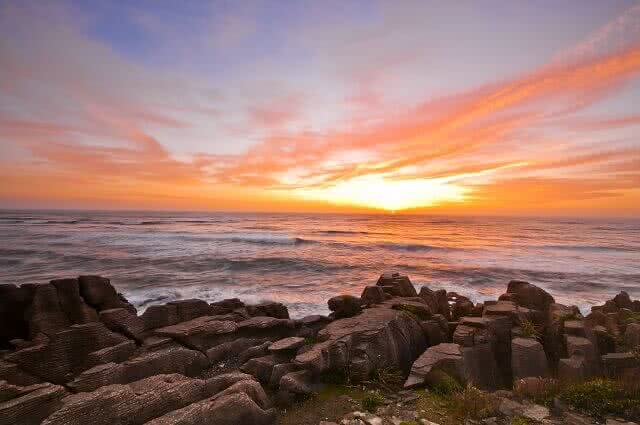 Located on the West Coast just north of Greymouth is Punakaiki. The small community is mobbed by visitors every day who flock to see the natural wonder of the Pancake Rocks and Blowholes. The amazing Pancake Rocks have been formed over the past 30 million years. They occur through heavy limestone erosion which has created a pretty unique formation that looks a lot like a stack of pancakes. As the sea rushes in, water is forced through blowholes in the rocks which creates an amazing natural water show.
6.      Moeraki Boulders, Dunedin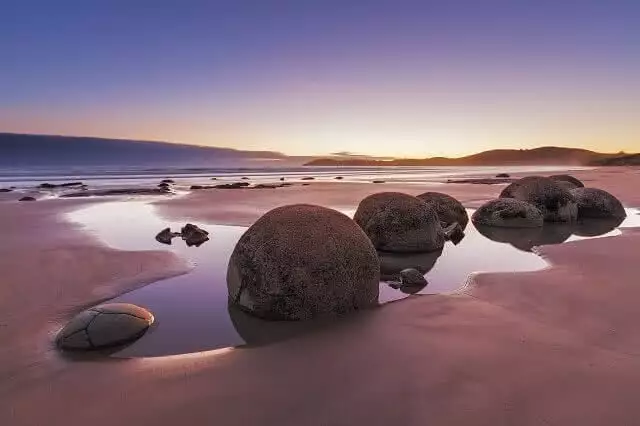 Another of New Zealand's amazing natural rock formations, the Moeraki Boulders can be found on the east coast of the South Island just north of Dunedin. These magical spherical boulders are around 60 million years old and you will find them scattered all along Koekohe Beach. The Moeraki Boulders are steeped in Maori legend and their history is quite mysterious. From Maori legend to geology, the history of how they came to be is open to interpretation. All we know is that they are super cool and you should add them to your list of natural wonders to see in New Zealand.
7.      Tane Mahuta, Waipoua Forest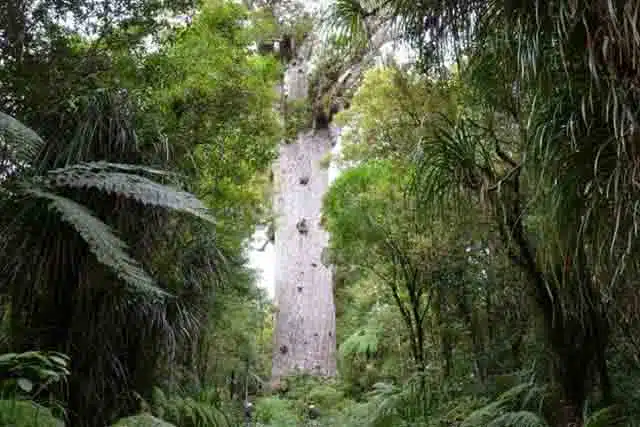 One of the few natural wonders on our list that does not involve water is the magnificent Tane Mahuta – the Lord of the Forest. Tane Mahuta is a giant Kauri tree found in the Waipoua Forest on the west coast of the upper North Island. It is estimated to be around 1,250 to 2,500 years old and the legendary tree is steeped in Maori history. The giant Kauri measures 13.77 metres in girth and stands at 51.2 metres tall and can be accessed by a short loop walk.
8.      Tongariro Alpine Crossing
OK, so this one is pretty big for a natural wonder – a whole national park! However, the Tongariro Alpine Crossing is rated as New Zealand's best one day walk and one of the best in the world. What makes this so special is the number of natural wonders you will encounter on the 19.4km day walk. From towering volcanoes to the turquoise coloured Emerald Lakes, there is no shortage of natural wonder on this walk. And of course, the national park is also home to the world-famous Mt Doom, made famous on the Lord of the Rings trilogy. Lots of natural wonders for the price of one here!
9.      Split Apple Rock, Tasman Bay
We're back to rocks! And water. Take a trip to the Abel Tasman National Park at the tip of the South Island and you will be rewarded with yet another New Zealand natural wonder. The Split Apple Rock is a geological rock formation. Made from granite, the rock is the shape of an apple which has been cut in half. It's a hugely popular tourist destination and there are a number of ways you can check it out – our favourite is by kayak which you can hire in the park. You can also wade out to the rock at low tide. The split in the apple was a natural occurrence but it is not known when it happens which has created an air of mystery around the rock.
10. Lake Matheson, West Coast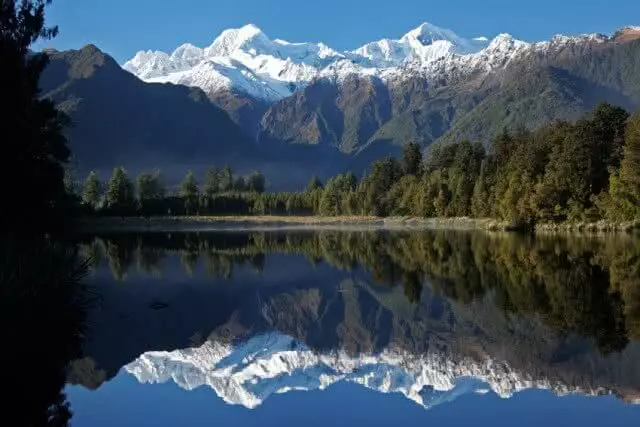 With so many lakes to choose from, picking one for a list of natural wonders was not easy. In the end it came down to this; not only is the rock itself a natural wonder. What is reflected in the lake is also one of New Zealand's natural wonders. On a clear day, Lake Matheson offers up a perfect reflection of the magnificent Mount Cook as well as the Fox and Franz Josef Glaciers. Not too shabby for one little lake. It's a cracking little walk around the lake which will take you around an hour (you may want to leave more time for all the photos though!).
Related Posts
Summary
So there you have it. Our top ten natural wonders that you really have got to go and check out. We have some awesome road trip itineraries that will make sure you tick off most of these as you go around the country. We've also got some great deals on car rental here in New Zealand at any of our six branches throughout the country.
We know that we have definitely left some crackers off our list so we would love to get your thoughts. Drop us a comment below or on our Facebook page and tell us your favourite natural wonders in New Zealand.
Book a vehicle for this trip
We recommend: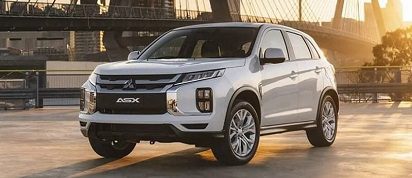 Compact SUV
Mitsubishi ASX
Seats

5 seats

Large Bags

1

Small Bags

2

Transmission

Auto trans